The evolution towards a more sustainable society has forced many people, and above all companies, to redefine the materials used in their daily lives. Recyclable or reusable materials that already existed years ago, but now, or with the ecommerce boom, have reappeared following a trend towards sustainability. This is the case of Kraft cardboard, a resistant and rustic-looking material that has become, today, the favourite of users, being in the past the eternal forgotten and used only for the most industrial packaging.

What is Kraft cardboard?
Kraft cardboard is a material obtained from the pulp of wood fibre or recycled cardboard. It is a very resistant material, hence its name, due to the German term Kraft, which means resistance.
It was invented by Carl Dahl, a Swedish man who developed it in 1884, and since then it has had an infinite number of uses, including as a material for packaging all kinds of products, from the largest to the smallest.

Characteristics of kraft cardboard
As for the characteristics of Kraft cardboard, it is a type of cardboard that is thick, rough to the touch, light in weight and very resistant. It can have different weights, from 20 to 120 grams approximately. In its natural form it is brown in colour, but it can also be found in other colours. These qualities make it very useful for packing, packaging, transporting and protecting other products, which is why it is so widely used nowadays.
It is also an ecological material, completely recyclable, environmentally friendly and its manufacturing process is quite simple.
In addition, one of its main advantages is that it can be personalised, so it can serve as a letter of introduction for any company or brand.

How is kraft cardboard manufactured?
Firstly, as a general rule, the raw material from which Kraft cardboard is made is pine. However, it is also possible to find fully or partially recycled kraft board, which means that it does not always come from wood.
Once the paper has been made, the first step in creating kraft board is for it to pass through the corrugating machine. The corrugating machine is a machine made up of several fairly heavy rollers which have two essential functions: to preheat the paper to make it easier to work with and to bend the paper itself into corrugated board with its grooves.
Finally, before die-cutting it to obtain the desired shape, the corrugated cardboard must go through the gluing process, in which it is placed between two sheets of Kraft paper, thus forming the Kraft cardboard as we know it.

As mentioned above, there are various weights of Kraft cardboard, and its strength to support a greater or lesser weight will depend on it. Most standard shipping boxes are usually microflute, which corresponds to the manufacturing process described above. But, for example, removal boxes, are usually double double, so instead of having a single sheet of corrugated cardboard as in shipping boxes, there are more and thicker for greater strength and support.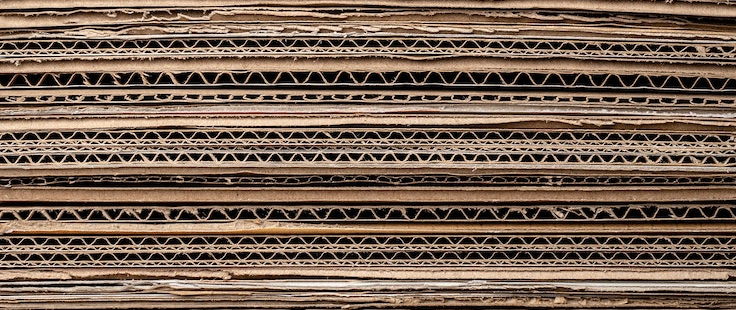 Kraft cardboard: environmentally friendly packaging
Kraft cardboard, as we have mentioned, mostly comes from other recycled cardboard, at least in part, while the rest comes from wood. This is why we commonly speak of recycled kraft board.
At Selfpackaging, we have a guide of materials for you to know their characteristics and choose according to what you need, like or believe convenient. Our recycled Kraft cardboard (micro board) in its natural format, is 100% recyclable and recycled, biodegradable, and also contains the FSC seal that guarantees that the paper comes from well-managed forests.
While the trend is towards sustainability, recycled kraft cardboard boxes, as well as other sustainable materials (see article on recycled cardboard) are the future, thus displacing other less sustainable materials such as plastics or even tinted cardboard.

Customised Kraft bags and boxes
The rise of ecommerce, forced by the pandemic situation experienced last year, in addition to the trend that had been going on for years, has created a need for companies to incorporate shipping boxes into their sales method.
Almost all of the shipping boxes used by brands are Kraft boxes, mainly due to their resistance, low cost, and because they are one of the most sustainable options, as well as their capacity for customisation.

Customised Kraft boxes have thus become the winning option for users, who can create exclusive designs to differentiate themselves from the competition and incorporate this medium into their branding strategy.
On the other hand, the consumption of plastic bags in shops has also been reduced in high percentages in recent years. The reason is that the plastic in a bag takes up to 150 years to biodegrade.
As a result, many companies have opted to offer their customers other types of bags such as kraft paper bags, which have established themselves as the best solution for businesses that want to offer their customers an environmentally friendly, but at the same time very durable, alternative.
Kraft paper bags have the same characteristics as boxes made of this type of material, making them very resistant and suitable for moving products from one place to another. Once the bag has been used, it can be reused when making other purchases, or it can be recycled by simply depositing it in a paper and cardboard recycling container.

Packaging solutions with kraft boxes for business
The applications of kraft cardboard, as we have already seen, are infinite, as are its customisation possibilities, with a wide variety of sizes, shapes and colours to choose from.
In addition to kraft cardboard, which is the most resistant option and the most suitable for shipping boxes or boxes for removals, there is also the option of kraft cardboard, also very resistant although it supports less weight than the previous ones, which is mainly used, together with grey cardboard (lined boxes), for the packaging of cosmetic products, make-up, food, jewellery, gifts, etc.

– Kraft cardboard for weddings
Are you organising a wedding? We have the perfect box for you. Any of the options is ideal for a detail and you can personalise them for each guest or for the bride and groom.
– Kraft gift boxes
Find the perfect box for any gift, big or small, long or square.
– Kraft food boxes
Some of these food containers are suitable for hot meals, so they are very useful for caterings or take away food shops.