At SelfPackaging we are increasingly sustainable! We are committed to the environment, and we are changing our habits to achieve an eco-responsible company. That is why we carefully select our components to manufacture the most ecological boxes possible, making the most of paper and reducing our waste.



In addition, we have added materials that will make your future packaging more respectful of the ecosystem. We are so proud of these novelties that we have designed a series of eco stamps so that you can add them to your printed boxes. In this way, everyone will know that you are collaborating to achieve a better world.
These eco stamps can vary depending on the material with which you decide to create your box. Although we work with sustainable raw materials, not all users will be able to put the same stamps. That is why we have created this guide, so that depending on the material and finish you use in your box, you know what type of stamps you should add. Let's go … Meet the eco stamps!


A sustainable novelty that we have recently added so that you can print your boxes in the most eco-friendly way possible. These water-based inks offer excellent print quality with 0 residue and toxic odors.

We recover the paper already created or used to transform it into a new product. You can find two types: Composed of 100% recycled paper or boxes that contain at least 40% recycled content.

When you see this stamp it will mean that this box is created from papers made with 100% natural substances such as seeds or nuts, so they decompose easily. They become compost through human action.

This eco stamp indicates that the paper we use to create the cardboard or cardboard for the boxes comes from well-managed forests. The acronym comes from "Forest Stewardship Council", and its official mission is to promote an environmentally appropriate, socially beneficial and economically viable management of the world's forests.

At SelfPackaging we firmly believe in a circular economy, in which the highest possible use and recycling of a product is favored. That's why we created our products so that when their useful life is over, they can easily go back to the cycle of creating a new product.

Once you have seen all the stamps that we have available, how can you add them to your packaging? Very easy. You will be able to select the icons for each one in our configurator, so the next time you design your boxes on our website, you will be able to add them comfortably.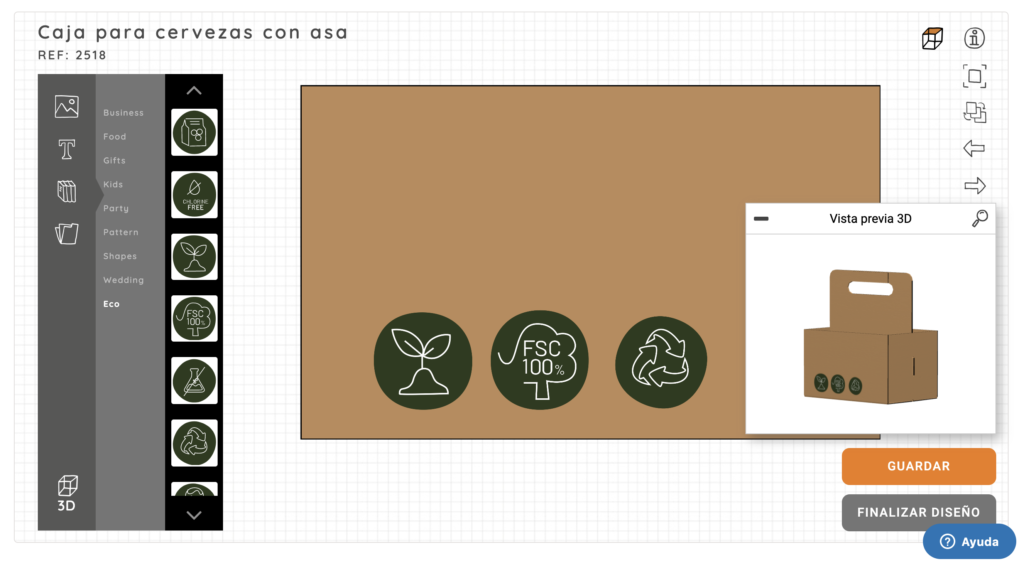 Consumers appreciate a responsibility on the part of companies that want to conserve our planet. Even the end customer can determine whether to buy a product from one site or another, depending on their commitment to the environment. And that is why it is so important to indicate whether your products and their packaging are made with sustainable materials. The eco stamps were created to help make visible all the benefits of using sustainable packaging, since you help the environment in a comfortable and effortless way.
To get an idea of which components we use in each box, you can find the materials by clicking HERE. In this way you can add your stamps according to the box you choose.