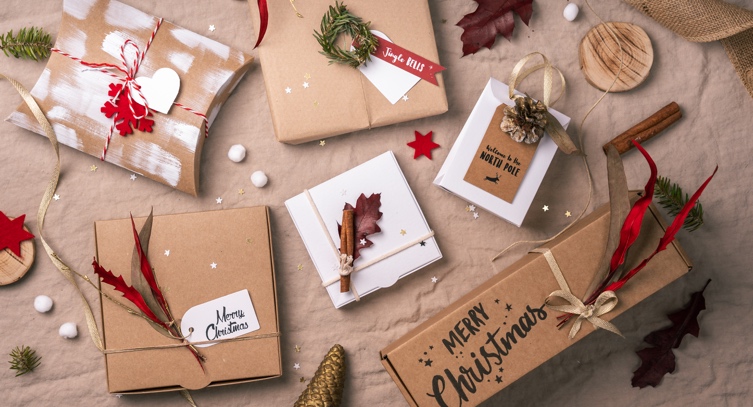 This Christmas is committed to giving more environmentally responsible gifts. On the one hand, think about giving useful things, objects that are real and necessary desires. Also, you can give experiences, intangible experiences, but indelible. And on the other hand, so that your gifts are environmentally friendly, avoid plastic wrappings or decorations.
Today we will show 6 simple and beautiful ideas to wrap your Christmas gifts in a sustainable way. Using paper and cardboard that is a 100% recyclable material and natural elements that are obviously organic. In addition, if instead of wrapping paper the gift is packaged in a box, the box can be reused and given as many uses as desired.
At SelfPackaging we are committed to sustainability and we have set some improvement objectives: completely reduce the use of plastic, plant trees and reduce our environmental impact as a company.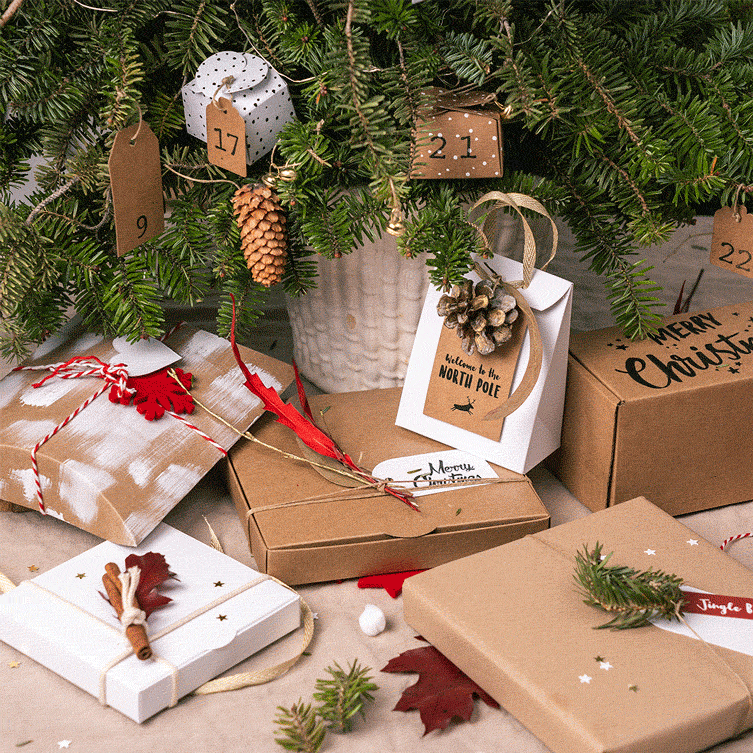 At Christmas parties, a lot of waste is generated and that's why today we want to show you that you can give beautiful gifts, using natural elements. With them you can get a more careful and delicate effect. The natural is extraordinary.
Walk through the park or the forest and while you walk, you will find a lot of items that can decorate your gift packages.
A post made in collaboration with Warm Home Life.
NATURAL BOX: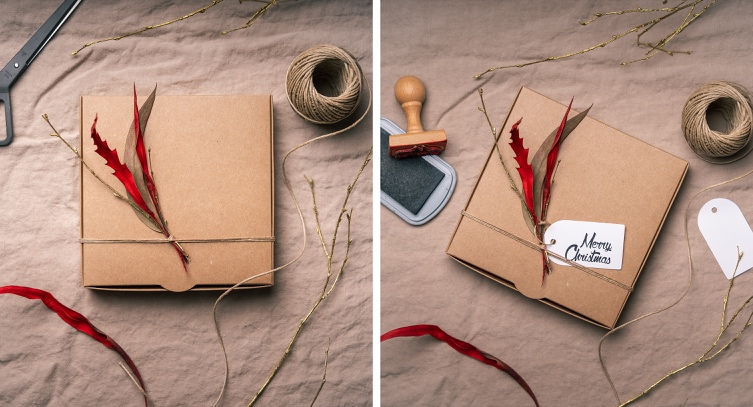 1. To start, assemble your little box. In this case we have used the flat box. After storing the gift inside, we have closed it with hemp rope and knotted some red and eucalyptus leaves. In addition, we have spray painted a twig with gold spray.
2. Then we have added a simple white label and we have stamped a "Merry Christmas" with black ink.
RIBBON TIE GIFT BAG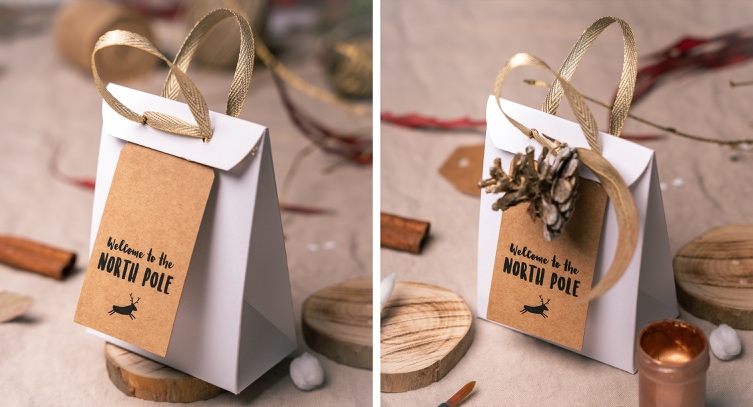 1. To create some handles to the little bag we have used a gold ribbon together with one of our Christmas labels.
2. The natural touch is given by a pineapple and another elongated eucalyptus leaf. Ah! Previously we have painted the pineapple, to achieve a snow-like appearance.
BOX WITH BRUSHES: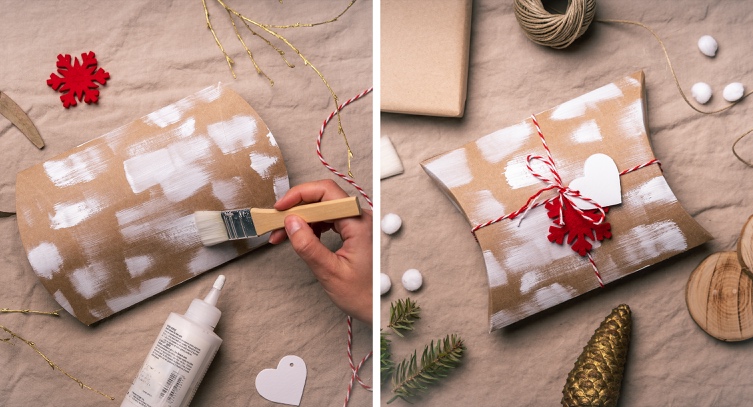 1. With little white paint and a small brush we have achieved this stamped effect on the entire surface of the gift box.
2. The Christmas touch is provided by the red thread, the snowflake felt and the white heart.
LETTERING BOX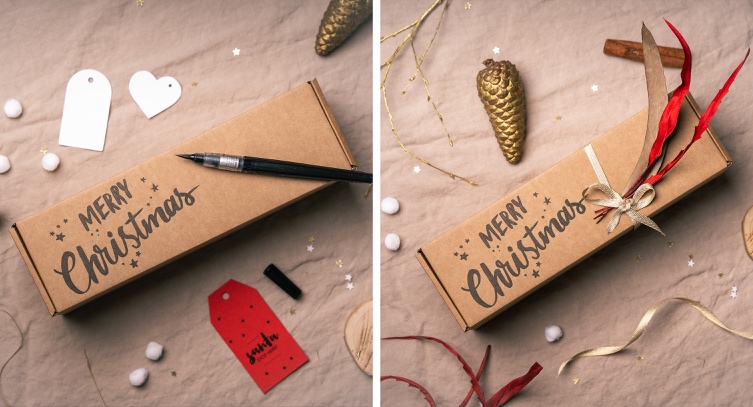 1. If you like lettering, you will love this idea. With a black ink brush we have written a "Merry Christmas" on the elongated box.
2. Next, we have closed the box with the gold ribbon and two red leaves and one of eucalyptus.
BOX WITH CINNAMON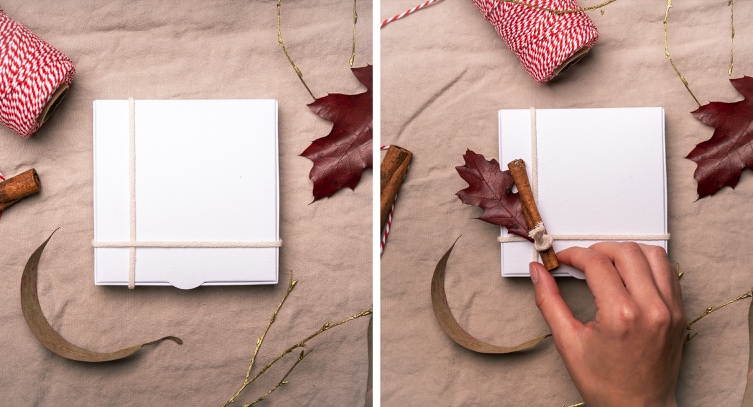 1. This white flat box is super simple. First, we have knotted a piece of raw colored rope cross.
2. Then we have made a mini bouquet with a dry forest leaf and a cinnamon stick. This touch brings a sweet smell that you will love.
MANILA PAPER: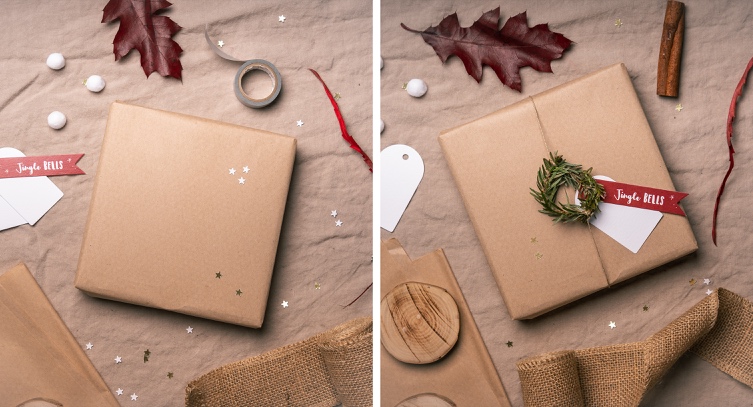 1. If it is a gift that does not need a box, for example, a book. You can use manila paper. This paper has been used throughout life, is perfectly recyclable and gives a very nice rustic touch. To avoid the use of heat, you can use whasitape kraft.
2. It is perfect with any twig. In this case we have made a mini crown with fir twig, knotted to a piece of hemp rope. Finally, we have hung some Christmas labels to congratulate the holidays and write down a name.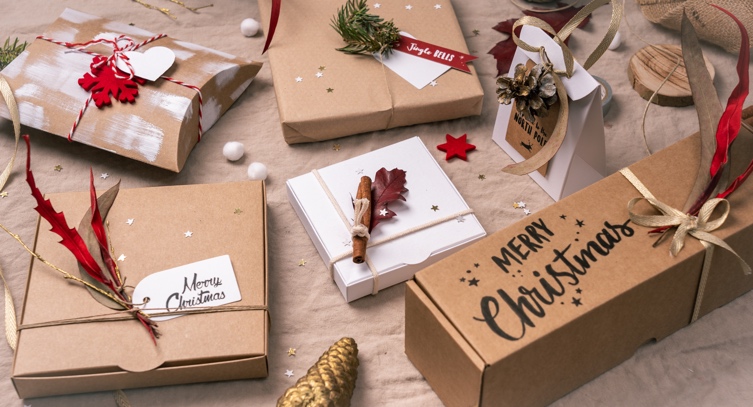 What idea do you prefer? We are going to use them all, for these holidays!
These are ideas that invite you to give away in another way, don't you think?
The time to unwrap a gift is fleeting and in a matter of seconds the whole package and decoration of the package ends up in the trash. Get that moment of illusion to be more leisurely and calm, explaining a story thanks to the natural decoration. For example, decorate the package with leaves from your favorite park, the one you go for a walk every day. Or knot twigs from the forest, from that excursion you did as a family. When you receive the gift, explain the origin of each item. At that time, you will most likely choose to keep that little leaf or twig as if it were a treasure. And it will take a while to assess every detail, before opening your gift.