Are you considering a wine bottle as a gift? As you know, wrapping a bottle is not an easy task. The way you present the bottle is essential to create a great first impression! The bottle wrapping nightmare is over, today we teach you How to wrap bottles in 11 different styles.
Your present will look amazing! A quality product is not enough to surprise people since the importance of packaging and presentation grows daily. It can lead your present or product to success or failure.
Discover a variety of boxes for bottles to decorate and customize the packaging. Or even some ideas to decorate the bottle itself!
Original ideas to wrap bottles
Get the wine glasses out while I give you some ideas to gift wrap and decorate a bottle of wine. Shall we begin?
How to wrap bottles: Conceptual / Themed style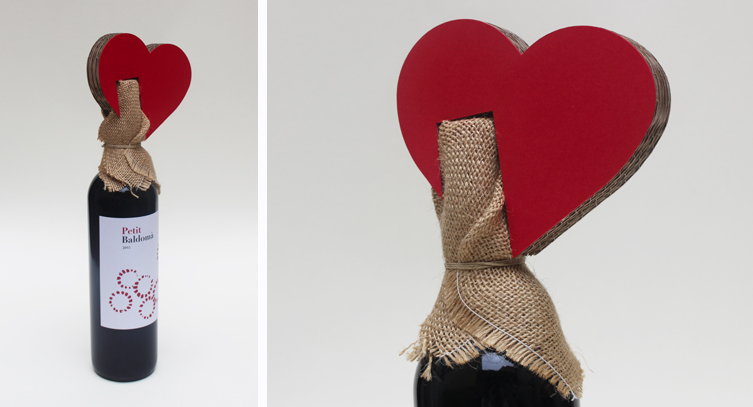 With your bottle's packaging you can relay the concept or theme you wish. Play with the shapes and create decoration that gets everyone's attention from the very beginning. The concept we have chosen is love, so we have created the decoration based on the shape of a heart.
To do so, we have taken some DD corrugated cardboard (double double), to obtain a cool effect and we have cut it in the shape of a heart. Once cut, you also need to cut out the exact shape of the bottle neck so the heart fits.
A simple but very visual and conceptual idea. You can apply it to different themes: leaves for nature, flowers or fruit to illustrate the fruity aroma, etc. The possibilities are endless!
How gift wrap a wine bottle: Bag Style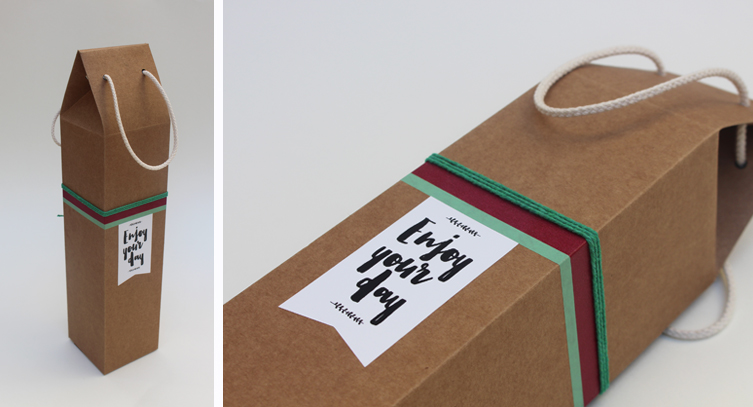 The most comfortable way to boast of a bottle! With our bag shaped gift box for a bottle (ref. 2005). A beautiful and sturdy box perfect for your bottle of wine because of its beige string.
How have we decided to decorate it?
With maroon and turquoise washi tape and a pretty sticker with an "Enjoy your day" message. You can stick any tag or message on and also play with the colours you like best.
Customize it to your liking and create a stunning design so your cardboard box becomes a sure success.
How to wrap bottles: Geometric style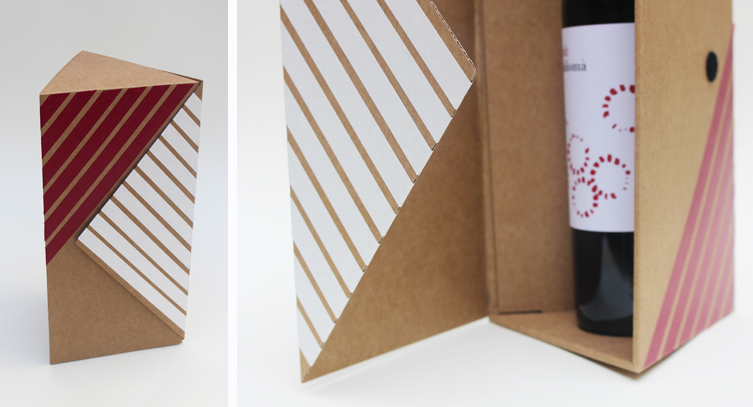 No doubt, this idea is a step away from standard straight packaging in order to play with dimensions in the design. Original geometric packaging!
We choose a triangular box, which will no doubt stand out among other designs and captivate everyone. Decorated with white and maroon stripes made out of washi tape. The result is really cool and will surprise with its original geometric shapes.
More complex wrapping for an elegant and arty design. What a work of art!
How to gift wrap a bottle in an original way: Textile style
We have fallen in love with this way of wrapping gifts! It is called Furoshiki, it comes from Japan and it is the art of wrapping with handkerchiefs made of fabric. It consists in using a square handkerchief to wrap, both as presents and to carry them, all kinds of objects.
And we have chosen this art to wrap two bottles of wine. It is really practical to carry two bottles of wine and the fabric protects them.
The shape is not just pretty; it is also very practical. It is a real work of art! We have chosen a beige handkerchief and placed two bottles horizontally, touching at the bottom, and have started wrapping them with the fabric. With the ends you tie a knot and it looks as pretty as this!
Don't you think it is a very surprising way to decorate?
We have finished completing this beautiful wrapping by drawing red triangles on the fabric and adding two tags with messages, tied with a beautiful red gingham ribbon.
How to wrap bottles: Two colour style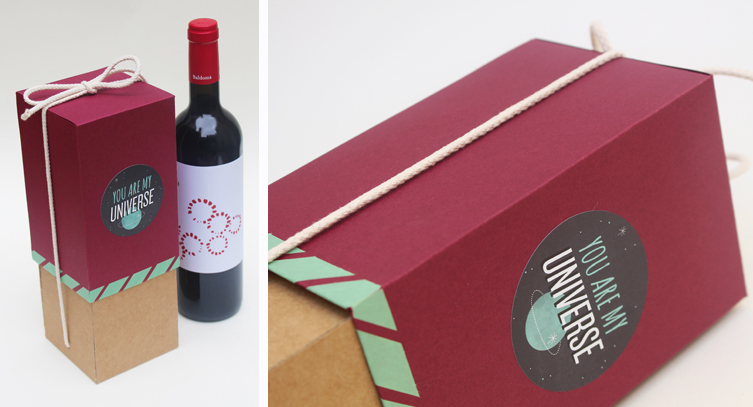 Because things are not necessarily black or white. Why not combine two colours and play with them?
We have stuck to the colours we have been using and chosen a two colour Kraft and maroon design. Bottle box with a lid and a string with a surprise inside, for once the lid comes off it opens in the shape of a flower. Perfect for company gifts or any other occasion!
And, if you want to surprise someone special, we have decided to add a romantic touch with a "You are my universe" sticker. Also, to play with the turquoise in the sticker, we have created a line with washi tape, playing with the shapes.
Thanks to its two colour design and the string to carry it, this packaging is appropriate for clients or friends.
How to wrap bottles: Paper wrapped style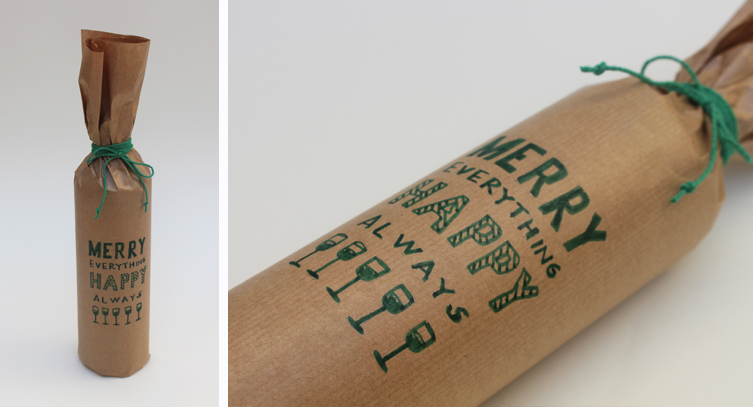 The paper wrapped style might be the most handmade, for you will make the wrapping out of Kraft paper, with lots of creativity and little time. Also, creating it ourselves adds a personal touch to the bottle.
A present made with our own hands and imaginations!
We wrap the bottle in Kraft paper and tie it around the neck with a green string. Once tied, we write the message we want with a felt-tip pen and, all wrapped up! A very easy idea with great results.
Don't you think it's really cool? We have played with letters in different styles and sizes and added some wine glass drawings. You can play with any colours you wish. They all look great on Kraft paper!
How to wrap bottles: Floral style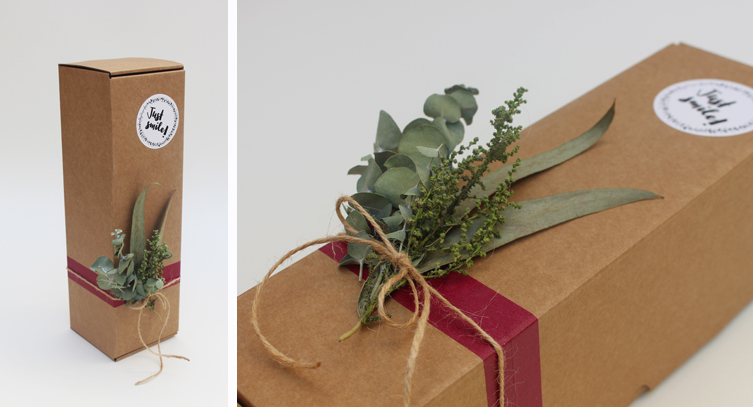 We love flowers and they couldn't be missing from our decorations! Flowers and sticks add joy, colour and nature to our decorations.
A floral style is ideal to decorate a wine bottle. Flowers are always a must in gift decoration: they are romantic, nice smelling and evocative. We have decorated our box with a pretty bouquet with touches of green eucalyptus and other plants tied up with a hemp string and placed over maroon washi tape.
What a pretty result!
Also, we have added some joy with a "Just smile!" sticker.
How to wrap bottles: Graphic style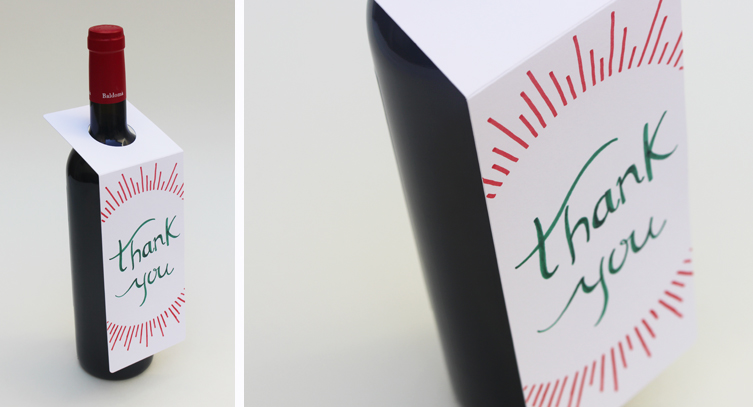 Are you the kind of person who always adds a customized gift to any kind of gift? Then this graphic style is the one for you! Play with the messages and decorate your wine bottle with a large customizable card.
A very modern and customized style in which the card offers the chance to share moments as gifts. This card invites you to share your experiences! Perfect as a company gift, to give thanks to someone or for special occasions like weddings or other celebrations.
We have created a large white card and have written a big thanks in felt-tip pen, to give to someone who deserves it. You can write messages, names and dates at a wedding, congratulations, a poem… or whatever you want!
How to wrap a wine bottle for a wedding: Romantic style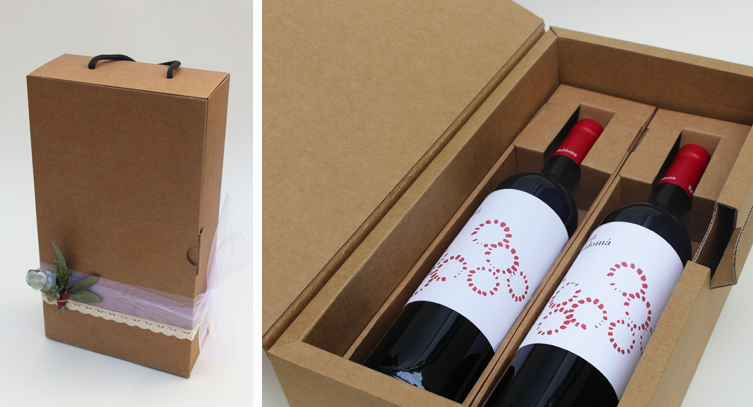 Are you getting married? Surprise your guests with two bottles of wine. They'll just love it!
We have decided to decorate a box for two bottles of wine with a handle with white tulle, lace and dried flowers. Decorating your guests' gifts with these elements are one of the most common choices for people on the most important day or their lives, for tulle and lace are fabrics that will add an elegant and sophisticated touch to any decoration.
And after these 9 ideas for how to wrap a bottle of wine we want to present two more packaging ideas in a corporate and professional style. Two ideas that will be hard to reproduce at home but which we, as experts in packaging and cardboard boxes, wanted to show you.
Learn how to present your wine to clients or make it stand out from the competition. The keys to design the packaging for your wine!
How to wrap bottles: Premium style – Corporate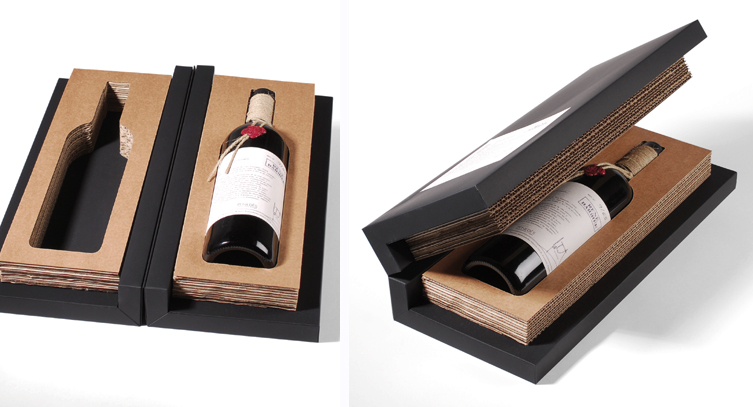 No doubt, your wine won't go unnoticed with this packaging! A premium style packaging to communicate your know-how and corporate image. A style that responds to three words: sophistication, culture and exclusivity.
A black briefcase box with fine corrugated cardboard cut-out in the shape of a bottle. A work of art!
The key to success is in adding value to the wine through the packaging. Up to standards with the wine itself.
How to wrap bottles: Creative style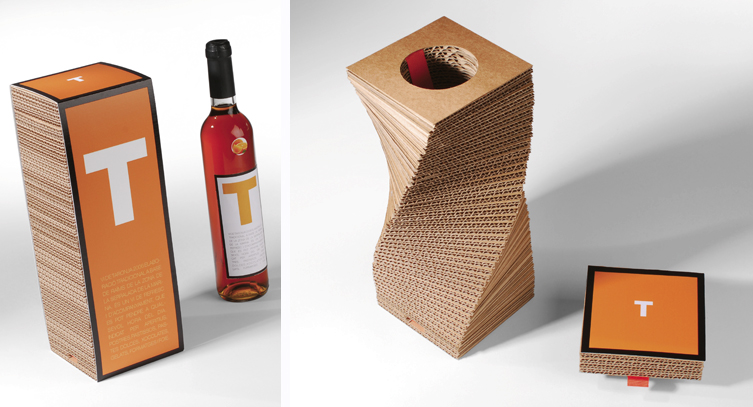 Let's now turn to the last of our ideas. This is, creativity at its purest! We are sure you will love it.
Very original packaging, created with squares of fine corrugated cardboard allow you to move them in order to create different shapes. A box that communicates the values of the brand or wine cellar. A box for a different and transgressive wine.
We are crazy about it! A crazy idea with almost certain success.
11 ways to respond to How to wrap a bottle in different decorative styles. We all know wine is a great gift because it shows good taste and even people who don't drink it will like it, because they can use it when they are hosting for friends or family.
Your wrapping will surprise everyone with one of these fantastic ideas!
What did you think of them? If you know any more, don't hesitate to tell usJ
Cheers!