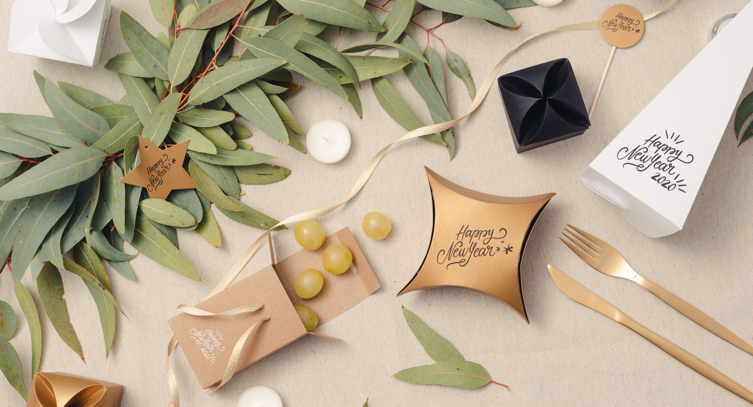 What a few days left to end December and start a new decade! At SelfPackaging we are already preparing our end of the year party to celebrate it in style. And today we want to share with you a few ideas that may interest you if you are preparing your party at home.
New Year's Eve is full of traditions that vary by country. But celebrating the start of the new year surrounded by family and friends is common throughout the world. It is a very lively and fun party where you can not miss: a perfect table, accessories to celebrate and good music. Today we are going to focus on the first two, you put the good music!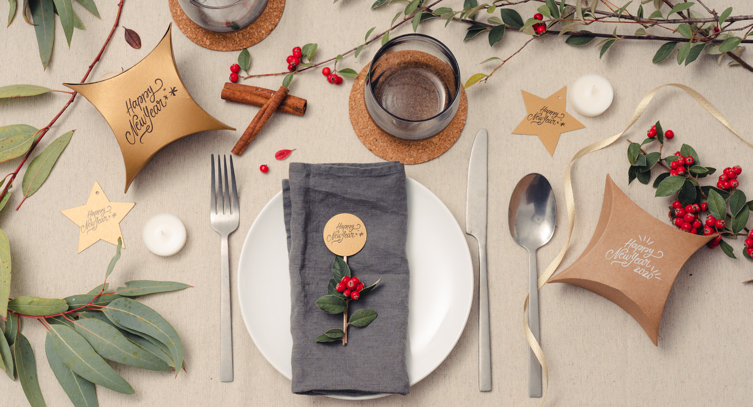 With our boxes you can get a nicer table and surprise your guests by delivering the accessories of the cotillion in a different way. Yes, yes also thanks to the individual boxes, it will be easier to deliver each kit to each of your guests.
As you can see, we have chosen a simple cotton tablecloth and we have decorated the centerpiece with eucalyptus and holly sprigs. The aroma is intoxicating and refreshing. The touch of Christmas party is brought by the red berries of holly. All natural and illuminated with simple white candles!
All combined with kraft, gold, black and white boxes. As each diner will have their own, if you place them intermingled with the dishes, it will be great because they will be part of the decoration of the table itself and will make it more beautiful.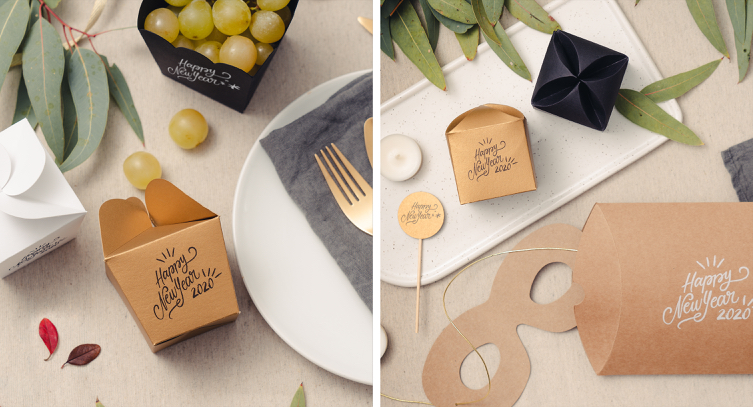 When you place your order, you see the print configurator to be able to customize the design and phrase you want. You can upload your design to the platform, create it right there or use one of our gallery. We will print your boxes with the color you prefer, even white.
You will find the Happy New Year designs in the photos right there!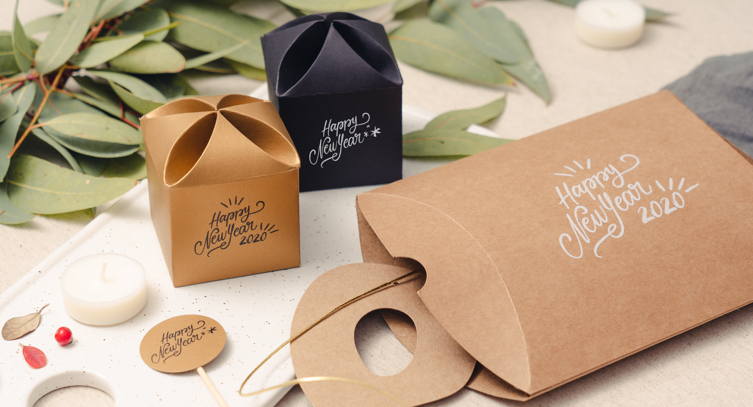 In Spain it is tradition to make a countdown to start the new year eating 12 grapes of luck. You can prepare an individual box for each guest and in this way it will be ready for when it is time. No need to use any bowl!
To store the grapes of each guest you can use smaller boxes such as the drawstring box, the gift box, the gift envelope, the petal-shaped box or the flower-shaped box.
Although these boxes can also be used to store streamers or confetti, to throw them in the air in minute one of the new year. In our case, instead of paper streamers we have used gift ribbon, specifically the golden spike ribbon that is brighter. At the end of the party, you put it back in its reel and you will have it ready to wrap gifts another day.
When it is time for desserts, you can decorate the cake or candy with small cake toppers to match the boxes. With different shapes, stars, round … By the way, how about the idea of pricking grapes on a bamboo stick?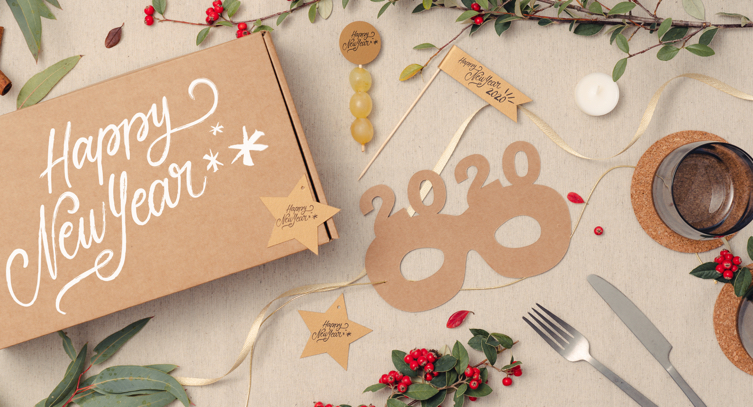 There are many cotillion boxes in the market, but there is none better than the one you prepare yourself: to your liking, free of plastics and personalized. In a cotillion box you can not miss: streamers, confetti, necklaces, hats, masks, treats … You can also include a card congratulating the new year inside. Everything you can think of to have a great time during dinner and the subsequent New Year party! Of course, try to ensure that all accessories are cardboard or paper, our planet will thank you.
We have stored all these accessories in our L size cone box and in one of our self-assembly thick cardboard boxes.
And what happens when the party ends? Your guests will keep a small memory box, which can be reused for whatever they prefer or you can recycle them, taking them to the recycle bin of paper and cardboard. This is one of the reasons why cardboard is a super material, it is 100% recyclable!
Celebrate a memorable New Year's Eve party by surprising your guests with details in cardboard boxes!
We wish you a happy 2020!