One of the most recognized traditions worldwide is that of painting Easter eggs. The Easter bunny tradition, which involves hiding painted or chocolate eggs in homes, gardens, and parks, brings joy to children and adults alike, and is a great way to celebrate a fun family event. In this post, we will introduce you to several ideas for painting and decorating Easter eggs, as well as using special boxes and decorations for this occasion.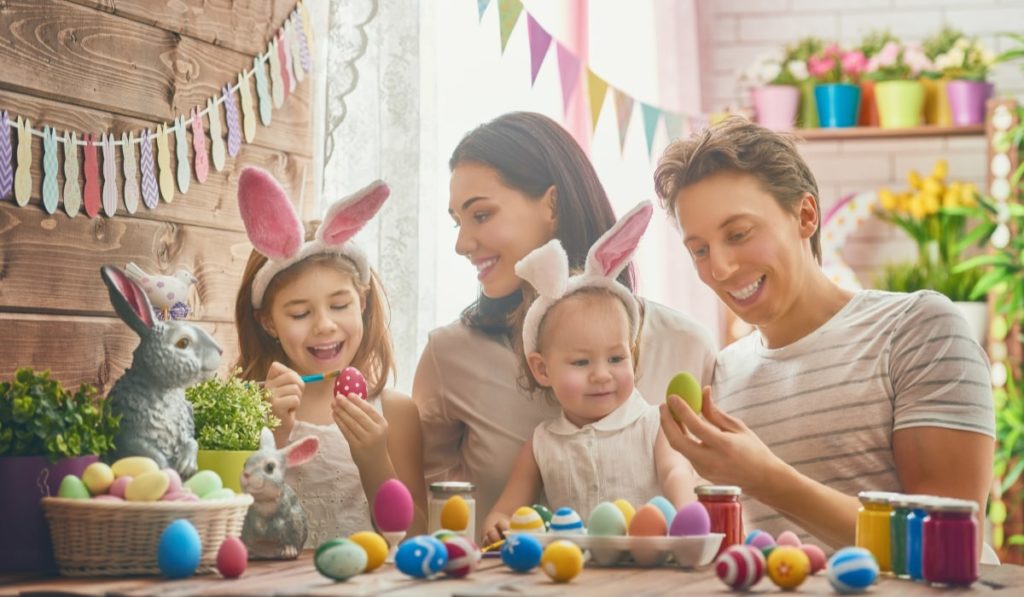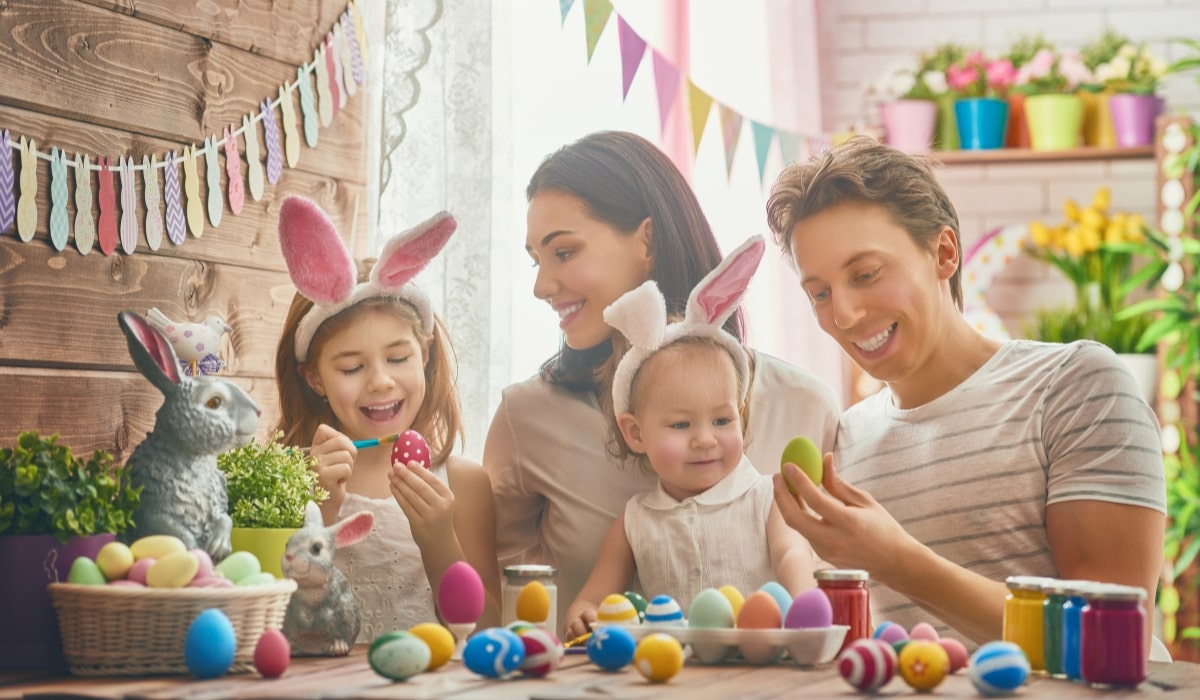 How to paint easter eggs with kids
This activity is very attractive for the little ones in the house, since it is a very entertaining and fun plastic craft. That is why painting Easter eggs with children can be a good option to spend a pleasant time with the family.
There are so many different ways to decorate hand-painted Easter eggs, and creativity is endless when it comes to something so versatile. What has to be taken into account is the shape of the treaty of said egg. As we have mentioned before, they can be used from boiled eggs to chocolate eggs, so the techniques can vary depending on how each one is prepared.
Decorating a hard-boiled egg for Easter
The first step is to boil the egg for about 8-10 minutes so that they are completely hard and it is easier to paint on them. Afterwards, they have to be allowed to cool and dry them with cloths or kitchen paper. To add a touch of color, you can submerge the egg and dye it with food coloring. To do this, place the egg in a container with two tablespoons of vinegar and one of coloring of the tone that you like the most. After about 15 minutes, the eggshell will have taken on a very special and striking color.
Painting Easter eggs with watercolors
Another slightly easier option is to paint with watercolors or acrylics on top of the cooked eggs, cooked in the same way as in the previous style. With the help of a brush and a lot of skill, very creative results can be achieved with designs of all kinds. There is a wide variety of designs to paint Easter eggs that can look good: dots, lines, triangles, flowers … There are many options to make unique and fun patterns. Also, the more striking they are, the faster they can be found if they are hidden!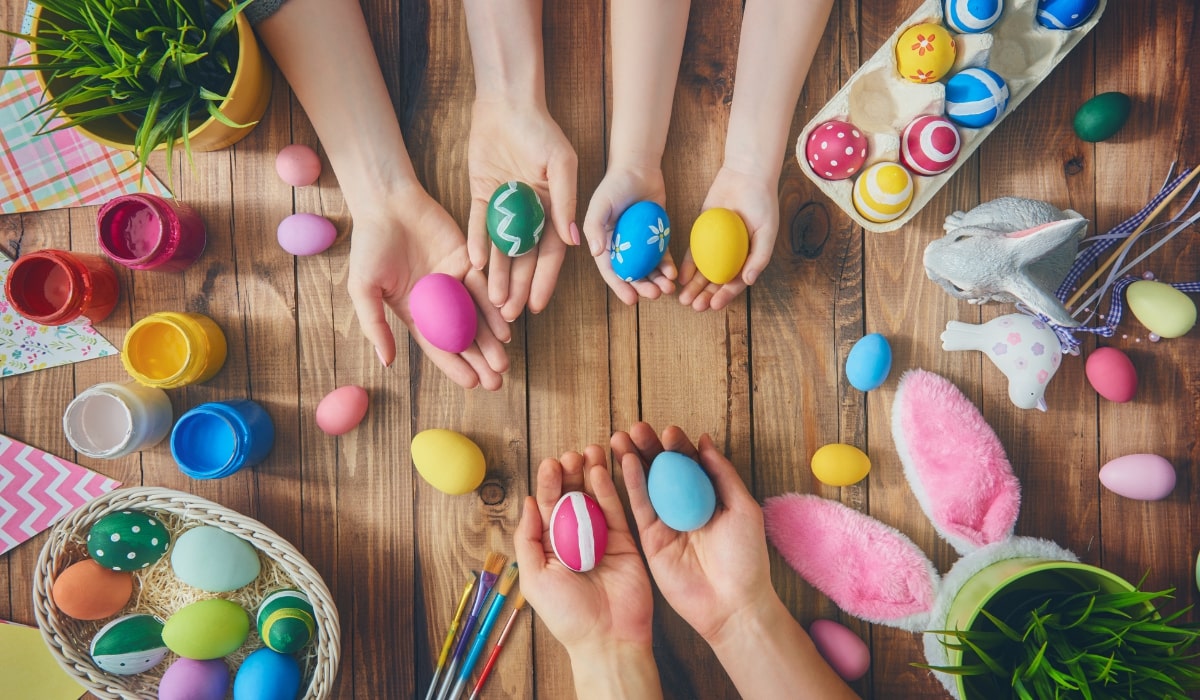 How to decorate chocolate eggs for Easter
Here comes the sweetest and most anticipated part: the chocolate eggs. These cannot be painted or stained since they will surely want to be consumed later, so it is better to use boxes for Easter eggs. To decorate them, simply use a display box and add personalized accessories for the moment, such as rabbit stickers, a drawstring bow, or even a fun tag.
With this special packaging for egg hunting, you can have the most original Easter party: Get a box in the shape of a rabbit or a carrot box and no one will be able to resist the temptation to find and collect all possible chocolate eggs.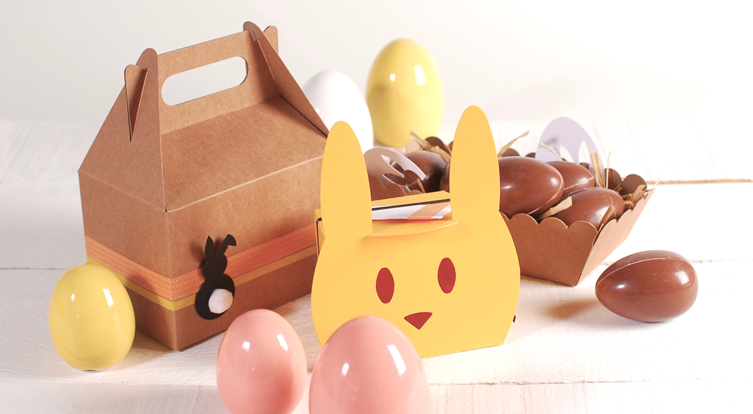 Ideas to do at Easter with children at home
The easter hunt
Apart from painting eggs in a thousand different colors and patterns, celebrating Easter at home can have many more activities. One of them and the best known, is about hiding these eggs and letting the little ones find them, the more the merrier! For this task, the most important thing is to have a basket that can withstand the search trot.
Giving Easter Eggs
Perhaps the older ones are not very keen to go for their prize, that is why you can choose to deliver your favorite Easter sweets in a box decorated for the occasion. Chocolate isn't just for kids! You can decorate a box with ribbons, labels or even personalized stickers and you will see that everyone's mouth is watering with your dessert.
A very special Easter
If you want to stand out, we recommend using a striking and unique box. It cannot be missed at your Easter party! It is perfect both for children's celebrations and for any event of this time. With its rabbit shape, it will give a very festive and fun touch at the same time. In it, you can put chocolate eggs, popcorn, candies … Everything you can think of to make an unforgettable Easter party.
Now that you know how to paint Easter eggs and you have seen several ideas to organize one of the best parties of this time, go ahead and celebrate this holiday in the best way. At SelfPackaging, we have a whole collection of Easter boxes and accessories that can help you create an unforgettable moment with your family and friends.