Many companies are thinking of changing their packaging for a more sustainable and environmentally friendly one, most of them saying goodbye to plastic. Cartonboard is one of the winning options as an alternative to the polluting plastic. Can you create sustainable packaging without using plastic, is it more expensive? Read on for answers to these questions and many more.
Components of cardboard
Are you thinking of using cardboard in any of your packaging? Cardboard has become one of the most commonly used materials in our daily lives. Within eco packaging, it is one of the star products. It is intended for different uses such as shipping boxes, cosmetic packaging, take away packaging, etc. It is the best option to maintain the balance between production costs, design and environmental impact.
We use cardboard, but do we really know what it is? Cardboard is a material whose structure is characterized by two layers of paper (the lids) between which there is a layer of corrugated paper (wave). We could say that it is a sandwich with two layers of flat paper on the outside and a layer of corrugated paper on the inside, glued together with adhesive.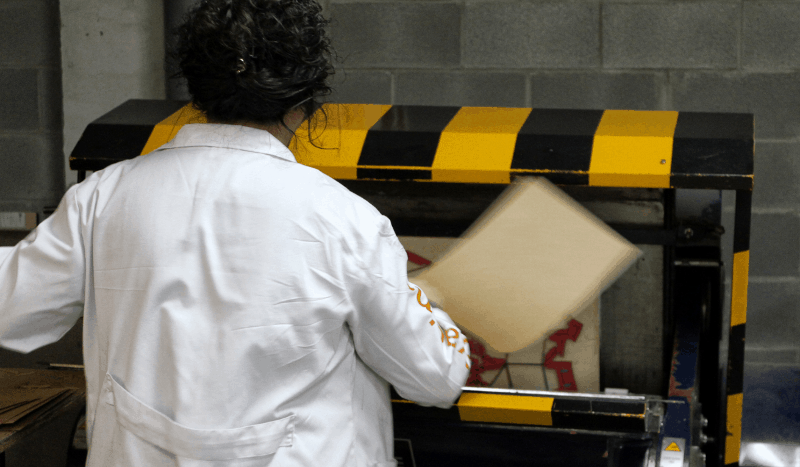 But do you know what the environmental impact of paperboard is?
Within the packaging industry, cartonboard has become the material with the lowest environmental impact. Its manufacture reduces up to 60% of C02 and petroleum emissions compared to other commonly used materials. 
Being 100% recyclable and biodegradable, corrugated cardboard degrades completely within one year in favorable climatic conditions such as a humid environment. In addition to generating no waste, you reduce materials, use it and recycle it.
You can read our entire eco and sustainable materials policy here.
Where does plastic come from? Why does plastic pollute?
The most common is the manufacture of plastics from petrochemical sources, in which petroleum is used. For the extraction of one barrel of petroleum (which involves emissions of about 63 kg of carbon dioxide). This process begins in a refinery, where crude oil is distilled, separating its components. The result of these components is the so-called naphtha, which is essential for the production of plastic.
According to UN data, "8 million tons of plastic waste end up in the oceans every year. They arrive by waterway and are concentrated in the world's major rivers and their main tributaries. If the data holds true, the oceans will contain more plastic than fish by 2050."
It is everyone's responsibility to help curb this trend and the pollution caused by the excessive use of plastics in our daily lives.
What pollutes more cardboard or plastic?
The answer is clear and obvious, plastic. A material that takes a long period of time to decompose, depending on the type, between 100 and 10000 years to degrade. In addition to being its production process, it is very polluting to the environment.
Cardboard, on the other hand, does not generate waste in its production, is economical and recyclable. So it is still a more sustainable and interesting option for packaging and presenting your products.
You can take a look at all the options we have available on our website, or request a personalized quote to our sales department with your needs.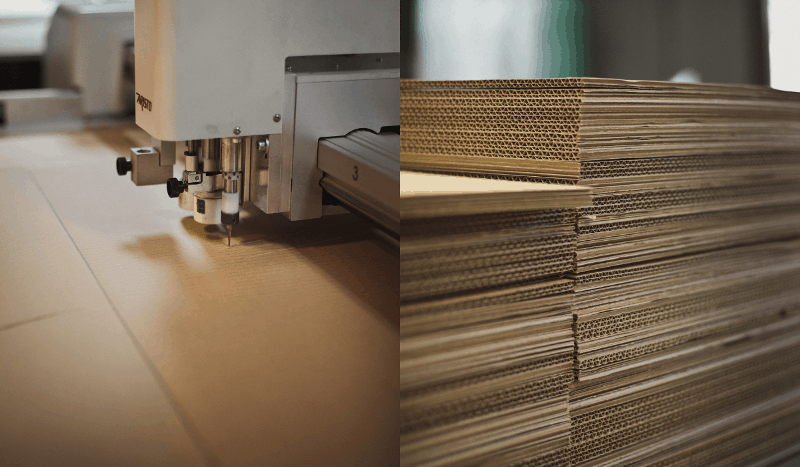 What other advantages does cardboard have over plastic?
Among the many advantages of using cardboard over plastic is its versatility and adaptability to different types of packaging, sizes, designs, etc.
If you want to take care of the environment and use a less polluting and respectful packaging, cardboard is the solution.
Before making a change of packaging it is important to have professionals in the field to help you, follow up and provide solutions to all the needs that may arise in this new change for a more sustainable packaging.