After (almost) two months with your business doors closed, the BIG day has come when you can serve your customers with home service or takeaway. We know you would love to be able to attend to clients in person, but for now, the best option is to pick them up at your establishment and enjoy it at home. If you have a restaurant or cafeteria and are looking for cardboard boxes for food and other food containers, in Selfpackaging we have the solution!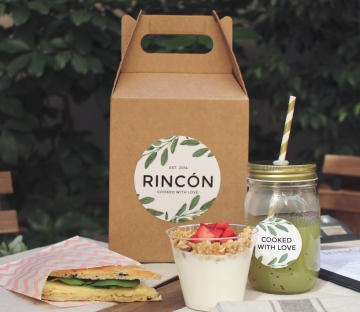 BREAKFAST AT HOME!
Would you like to offer breakfasts and brunches? The cardboard box for breakfast is ideal for transportation: tough, self-loading, and quality. This container is so strong that it will allow you to add bottles and jars (blessed homemade juices and smoothies!), as well as sandwiches, or fruit bowls and cereals. In addition, you can also add homemade pastries and your favorite desserts with our box with a window for dry food or biscuits. With this breakfast kit your guests will be delighted! You can also use the Take-Away Picnic Box, perfect for transporting menus and home cooking. It is sturdy and very comfortable to wear, your customers will appreciate it.
The Burger Box or Take-Away Food Pack are two-star products to add to your breakfast kit: you can store the quintessential bagel or even a vegan burger.
FOOD BOXES
The collection of sushi boxes offers solutions for different types of cooking and food, which is happening for takeaway restaurants. For example, in the sushi box you can transport sandwiches, sandwiches, or even desserts. It is a very versatile and original box, sure your clients will be fascinated. We have a similar version but with two compartments: the elongated sushi box, has two elongated drawers in which you can store food and will stay separated without damage: macaroni, muffins, … the options are endless! And if you're looking for a smaller box to store mochis or protein balls, the elegant cardboard box for sushi, it's great!
What about pizzerias? Don't worry that we don't forget our favorite food. The classic pizza box is available, and you can also design it with the logo of your restaurant. Customize it to your taste!
On the other hand, if you only offer slices of pizza, we also have a box for it.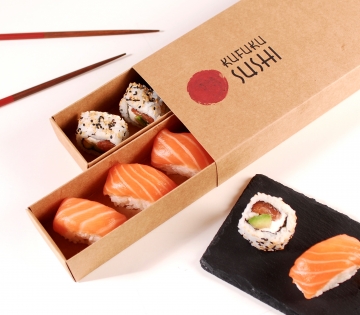 BAKING BOXES
A good pastry maker knows that the inside of candy is as important as the outside, so the box has to be up to the cake. The classic pastry box is perfect for carrying thanks to its shape, it opens in flower style and has three holes for comfortable transport. Available in white and kraft with plasticized for built-in feeding inside the box, it also has different sizes, with which you can offer various options of price and quantity to your customers. We have other models and more premium shapes, find them in the section of cake boxes.
We have endless possibilities to transport food and takeaway menus. With Selfpackaging you can make your customers feel like they are in the restaurant but now they will enjoy the food at home. For now, we must offer alternatives that are adapted to safety measures and hygienic recommendations.
We will soon go back to bars and restaurants!