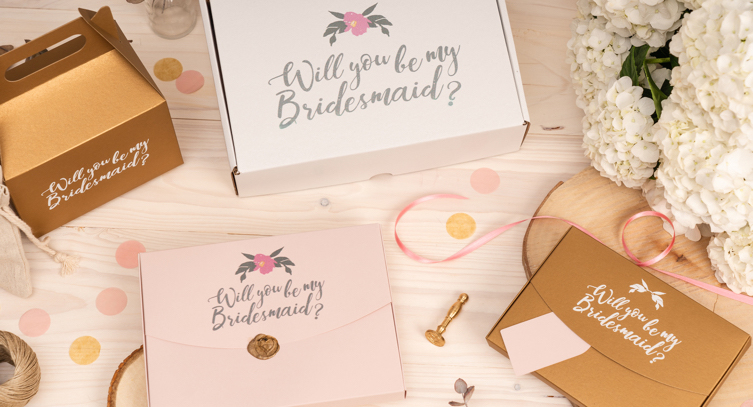 Your wedding day is a very special date. It is a celebration where to share love and happiness with your loved ones. Usually, family and friends turn completely into the organization of your day. Your support is key to making that day perfect!
For that reason, it is important to have details with them to thank you for your help and love. The figure that offers the most support to the brides, before and during the ceremony, is the bridesmaid. Its mission is to help in the choice of the wedding dress, organize the bridal shower party, collaborate in the wedding preparations and assist the bride during the ceremony.
Normally, the bridesmaid is the sister or best friend of the bride. It is that person who knows you perfectly, who will never let you down and who will give you all his love and dedication. What better than to thank you in advance?
Ask your best friend to be your bridesmaid with a nice detail kept with great care in one of our boxes. We propose a few ideas, take note!
A post made in collaboration with Warm Home Life.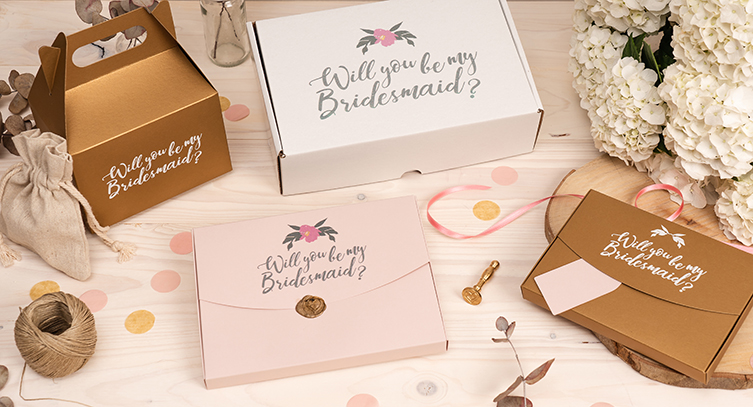 To start with, you should think about whether you prefer to give him a specific object or a fun personalized kit for bridesmaids. Its content can be varied and you should always take into account their tastes.
The main gift could be a perfume, a simple jewel, a watch, a headband or flower crown, sunglasses, a personalized mug or a selection of your best photos together. There are endless options and we have a lot of cardboard boxes that are sure to suit any idea you have in mind. Click on each one to find the box that best suits your needs.
We even have some linen bags that are cute and the bridesmaid could reuse for whatever she needs.
You can accompany this main gift with other small details to complement the bridesmaid kit. Here are more ideas: makeup, chocolates or macarons, flowers (never enough) or aromatic candles.
All this can be stored in a rectangular box of thick cardboard very easy to assemble.
If you are a cook lover,  we propose another totally different and fun idea: prepare a picnic for your best friend to officially ask her to be your bridesmaid. Surely you surprise her! You can use our picnic box and our take away containers. Add a glass bottle with a homemade pink lemonade to give a chic touch, we have a post where we explain the recipe. Don't forget about the straws!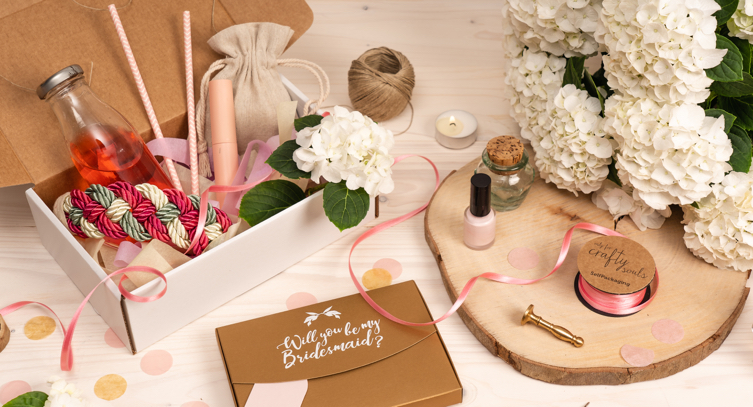 Whether you are the option "bridesmaid kit", picnic, gift or another idea you have in mind, you can customize your box by printing it with the text and design you want. Think of a phrase that excites you and makes you feel special. In our online configurator, you can write your message with different fonts.
You can control how your box will be printed instantly thanks to the 3D preview!
You also have the option of using our library. For example, if you like the design that appears in the photos of this post, you can find it in the "wedding" section. There you can adjust the color, size, and floral decoration that accompanies it.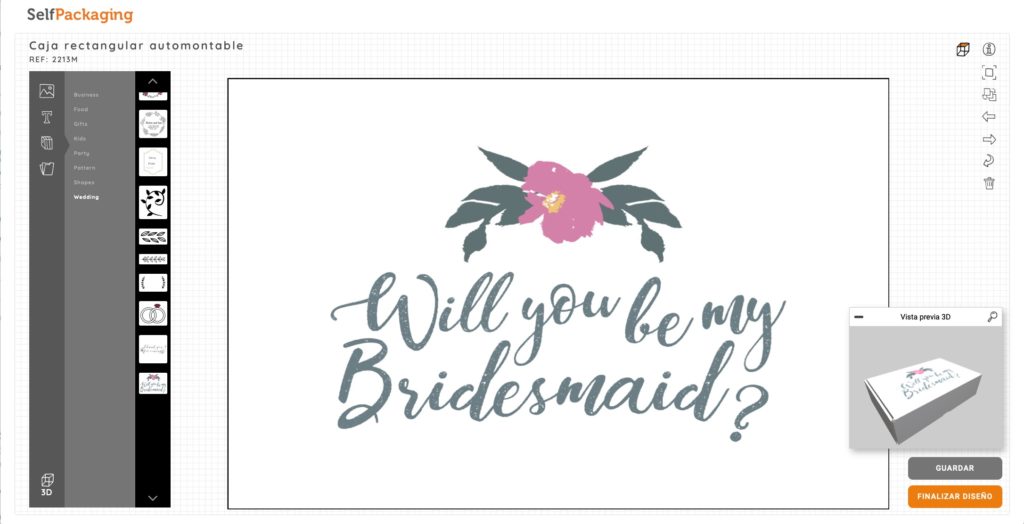 Although if you do the "do it yourself" you can also write or decorate the box by hand directly. You can use ribbons or strings to make beautiful bows or washi tape and paint to add more color to the set.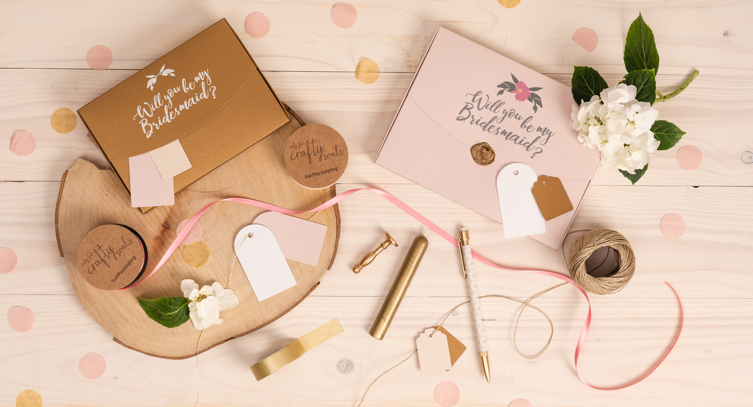 Also, you can use personalized tags or cards. Write to your future bridesmaid why only she can play that role and how much you appreciate her.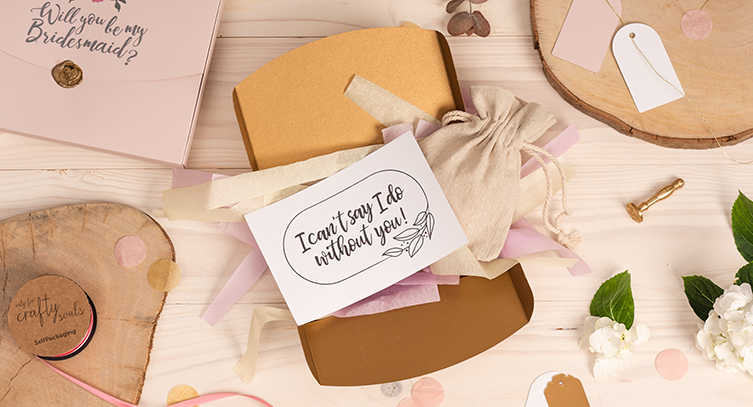 You can download this "I can't say I do without you!" Card and print it directly to your printer.
Of course, in any case, our advice is to protect the inside of the box and its contents. You can do it in three ways: by practicing paper shavings, adding colored confetti or cutting simple strips of tissue paper.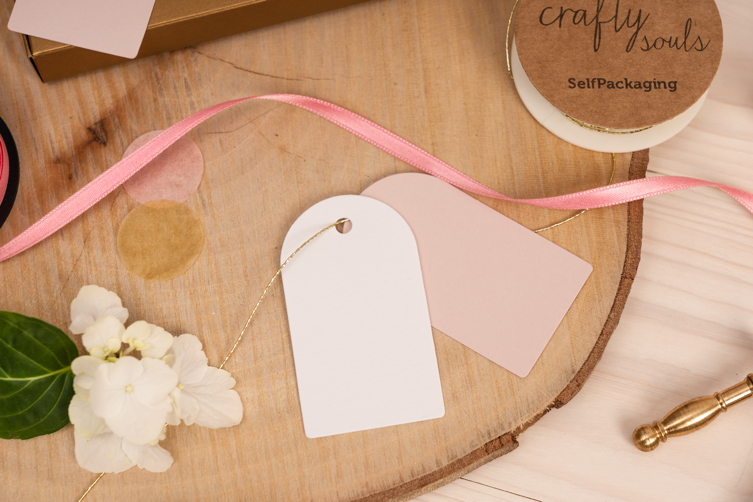 Ah! And we forgot, you can also prepare a beautiful table and decorate the room where you will surprise her with your proposal, to create a more festive atmosphere. The fastest and best way is to decorate with ribbons, confetti and paper pom poms. You leave her speechless for sure!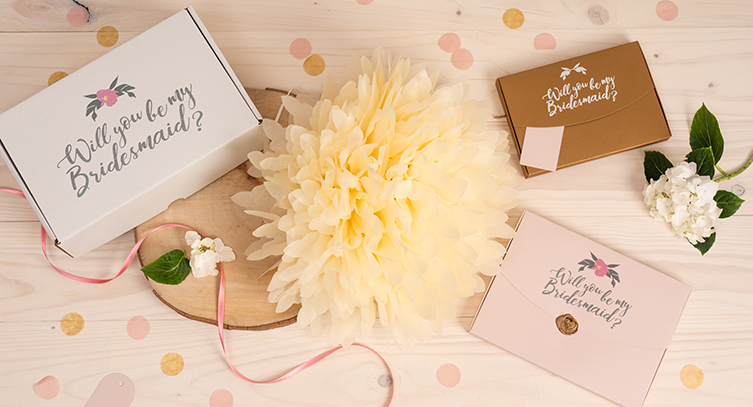 Don't forget to immortalize the moment with a good selfie where your future bridesmaid looks very excited!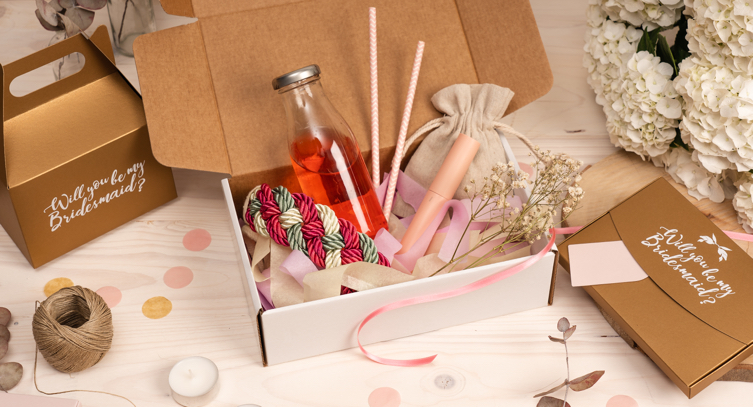 See you soon!