Spring is just around the corner and the gardens and fields are already full of flowers. Flowers can completely transform a balcony, table, or a room. They come in many varieties, and in an array of shapes and colours, so it's easy to find one that perfectly suits your decorative style. Flowers provide a fresh, colourful and organic touch wherever they are used; a simple way to make any object or space more beautiful.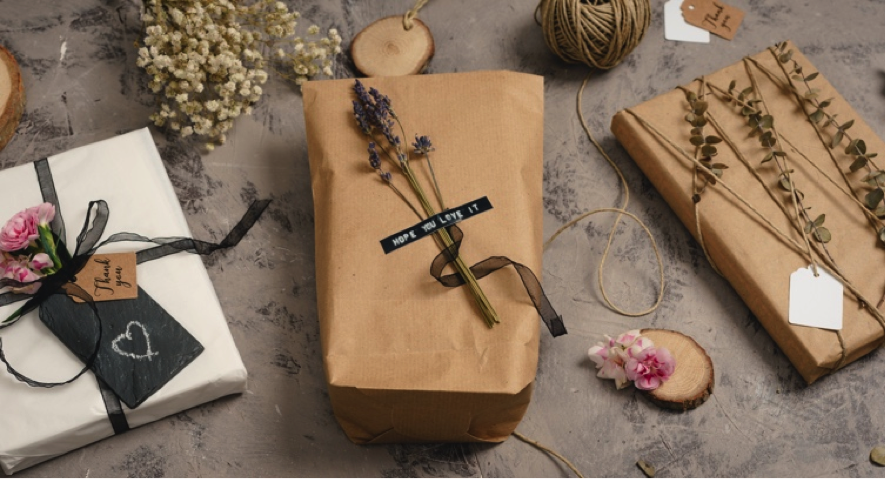 The same applies when small flowers and leaves are used for packaging or gift-wrapping. A floral addition to a plain box can completely transform it, making it seem more delicate, considered, and elegant. Look for flowers and leaves that suit both your style and the colours of the box. For example, a small box wrapped in brown paper and string will look great with small wildflowers or preserved minis. On the other hand, a larger, more modern, printed box will almost definitely look better with a small Monstera (Swiss Cheese plant) leaf. Just gather as many different flowers and leaves as you can, then combine them to according to your needs!
Here are some ideas for decorating your gifts and packages with flowers and leaves. First, you need to find some small flowers and green sprigs!
This super-post is made in collaboration with Warm Home Life.
MATERIALS USED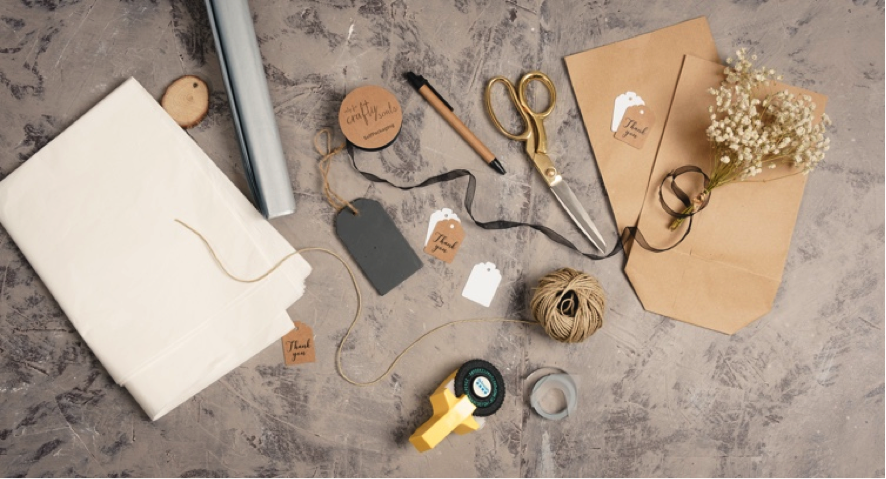 Flowers
Leaves
Scissors
STEP-BY-STEP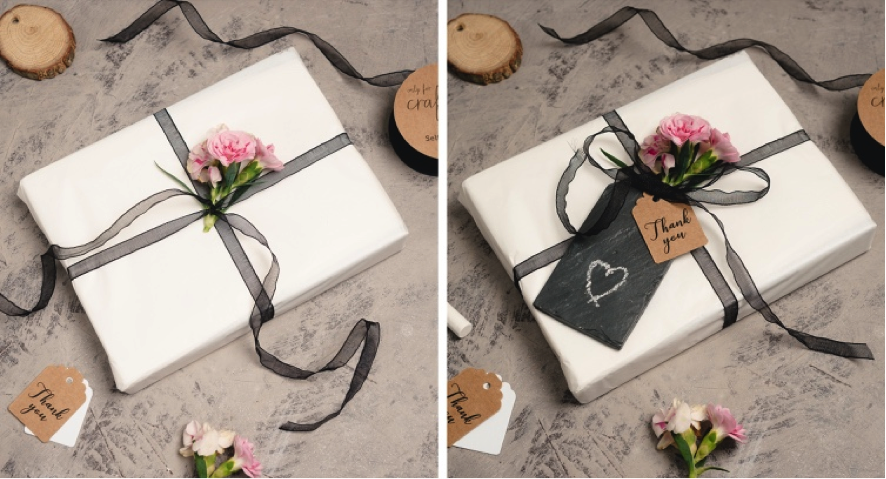 CARNATIONS ON WHITE MANILA PAPER
Cover your box in white manila paper. Then, tie a black muslin ribbon around it to make a cross effect. Before you tie the bow, insert some pink carnations.
Now, pass one end of the ribbon through the small hole on the slate tag and write your message with white chalk. Finish by tying a bow.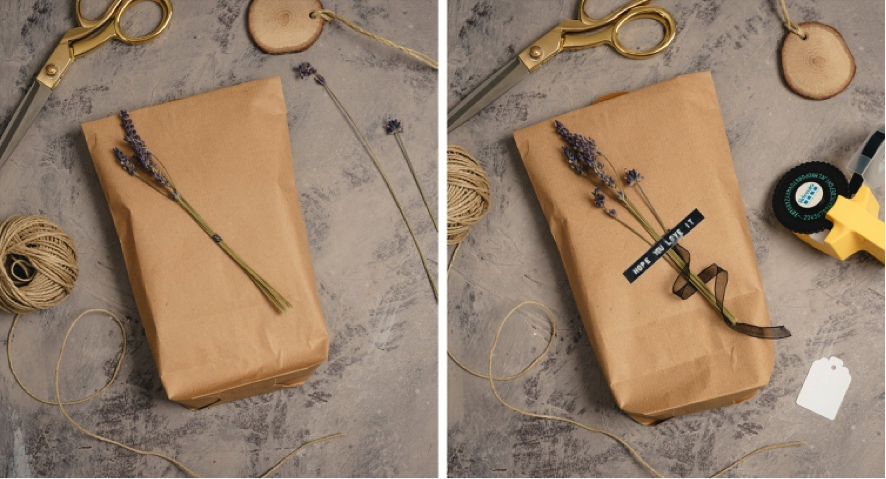 LAVENDER WITH A BROWN PAPER BAG
Seal the paper bag so that the folded part is at the rear. Then, trim some lavender sprigs to size and group them together with a small piece of tape.
Next, stick the lavender on to the bag with another piece of tape. Finally, print a message using the Dymo label printer and place it so it hides the tape that binds the sprigs of lavender. As a final flourish, add some shorter stems and a curled length of muslin ribbon.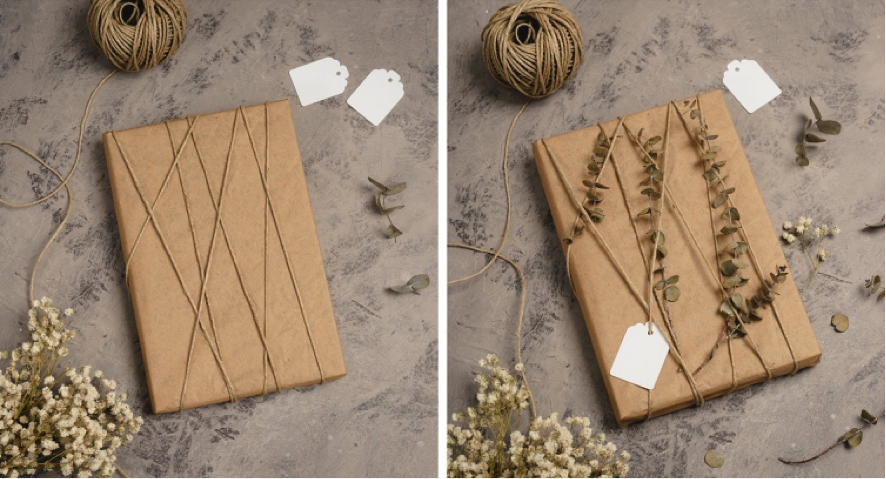 EUCALYPTUS WITH BROWN PAPER
To begin, wrap your gift in brown paper. Then, tie hemp twine around and around to make an irregular pattern. Pause at one point to thread a small label onto the twine.
Afterwards, insert small sprigs of eucalyptus between the twine.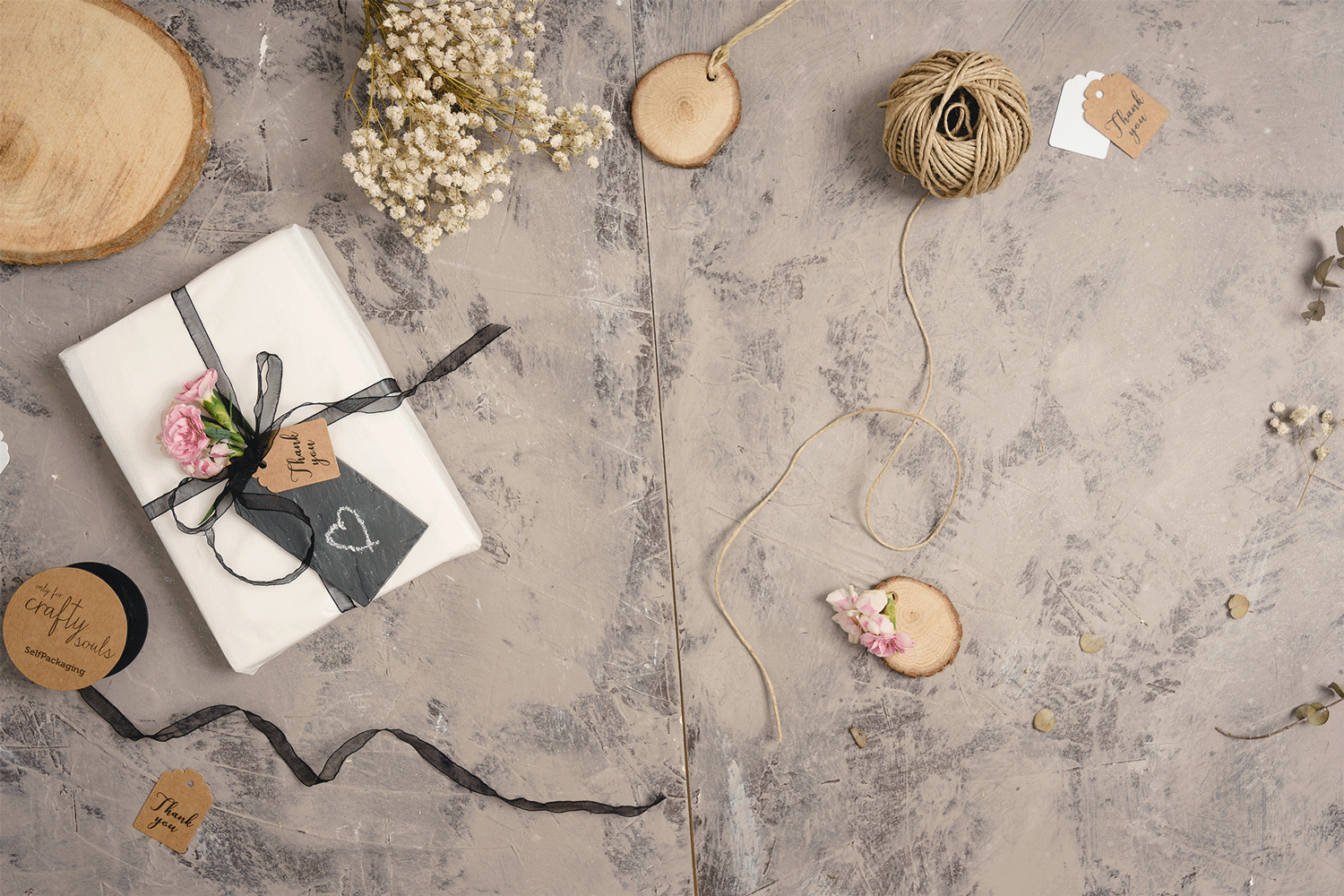 The use of floral decoration ensures you create unique, beautiful, and eye-catching packages every single time!