Christmas time… that wonderful time where it's all about happiness, mince pies, children running around, more mince pies, family chats, more mince pies… and gifts! Who doesn't like gifts?
That's why, like every other year, we always bring a new collection of boxes decorated with Christmas motifs to SelfPackaging, so that you can give a super Christmassy style to your gifts.
So, in this post we are going to see some of the newest arrivals that we are bringing to SelfPackaging straight from our workshop, where our elves (we love you team!) are working hard so that you can give a Christmassy touch to this wonderful festive time.
25th December Box. Don't open until the day!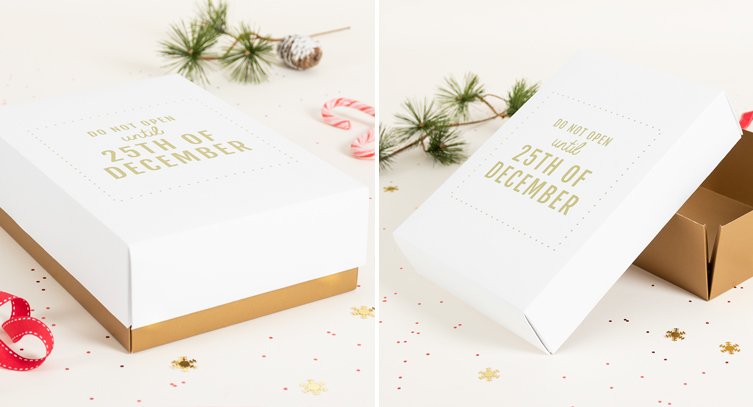 As its name indicates, this box is for those who love gifts and the count-down.  The box is made up of two pieces, a base and a lid, in brown and white respectively, and on the lid is the pretty gold writing "do not open until 25th December". Of course, it's easy to say, but after seeing this box, who is going to be brave enough not to open it until the 25th!
Christmas labels. The perfect ally for a gift.
These labels will be the perfect fit for any of your gifts. They are a safe bet. Even if you have a standard box, these labels are perfect to give the Christmassy touch you're looking for. Whether it's a sticker like the gold "Merry Christmas" one, or to join them up with string like the card labels where you can put the name of the person receiving the gift, the result will always be along the lines of "give it here! I want to see what's inside!".
Super festive accessories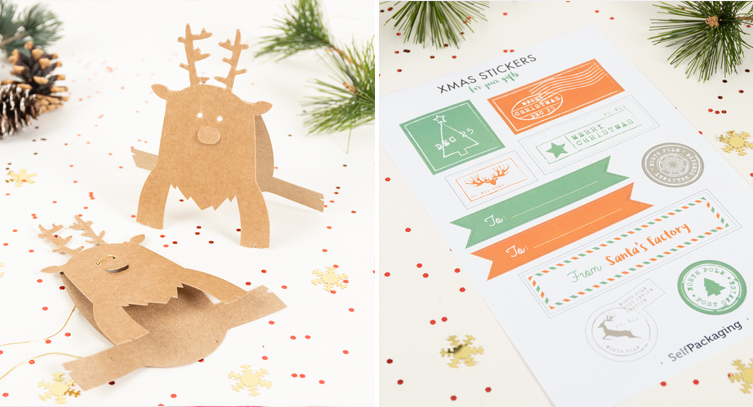 What is more iconic at Christmas than Rudolph the reindeer? Well this year, the famous little animal has been signed by SelfPackaging during the winter market. He is perfect for small gifts or decorating the house, looking good wherever you put him. And let's not forget about the Christmas stickers! These simple labels will look great as an accessory to your gifts, or sticking them on doors, or wherever you fancy.
The ghost (I mean, box!) of Christmas past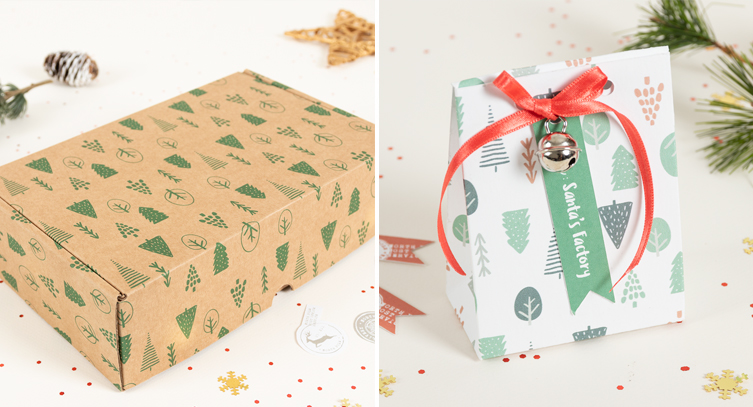 We didn't want to say goodbye without remember some of the best SelfPackaging Christmas boxes, like the rectangular box with Christmas motifs; it always dresses up around this time with its brown colours and pretty tree design. There is also the little bag for small gift and the perfect box to decorate it, which will be in charge of transporting gifts that touch your heart.
All these boxes and accessories are great, not because of what they are or what they have inside, but also because they help to spread the Christmas spirit like no others. Because gifts are nice, but the time that another person has spent thinking about them and the little details is what we love. So from SelfPackaging, we want to wish you a happy holiday and above all, we hope you enjoy the time with your loved ones. Merry Christmas!