Today you are going to find out about the best partner for your wedding, our boxes! These boxes are great and fully customisable. No two weddings are the same, so we don't want boxes to be the same either.
This section is for the bride and groom to be, who are preparing their celebration and are excited about everything to do with their special day. So, if you are one of them hold on tight, or you won't be able to help leaping with joy when you see these boxes and how well they will look at your wedding.
Not only will you find boxes, we'll also show you some ideas to inspire you, for we know there is nothing better or more satisfying for both the bride and groom and the guests, than something handmade. At the end of this post you'll find yourself saying "I do" to our boxes.
Boxes for favours or gifts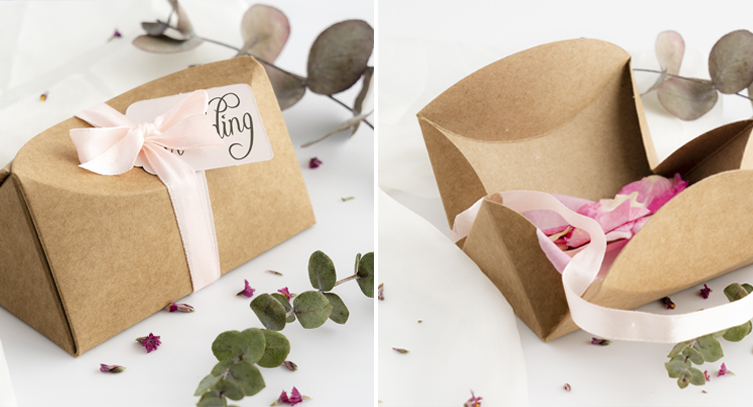 Look at those lines! This box comes in a pretty, elegant and atypical design. No doubt, guests will love this box, for you can place a wide variety of gifts inside. This is one of those boxes that is not easily forgotten.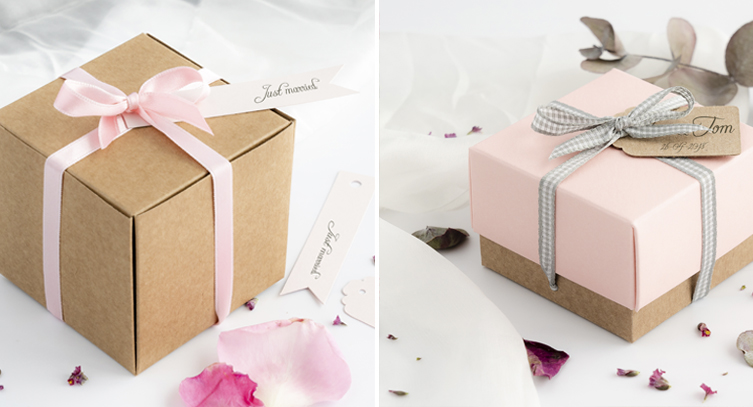 These cuties have a very pretty, very simple design. The first is made out of a single piece and opens up like a flower, the second has a base and lid. Both are ideal for small gifts, jewellery or figurines. This is exactly what you are looking for if you want to give your guests small gifts in an easy yet special way.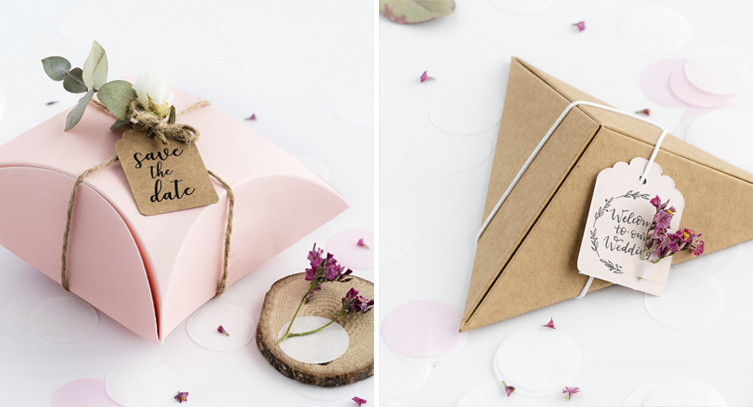 These cuties have surprising four-pointed star and triangular shapes. Small, easy to carry and assemble, ideal for small gifts and designed to draw people's attention. These boxes will make your gifts shine!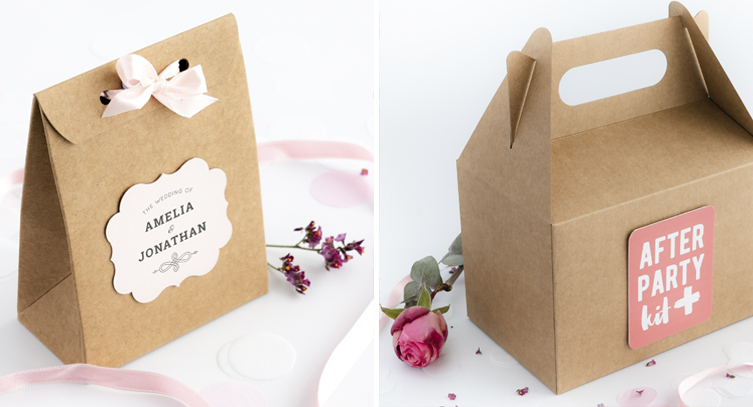 Here are two great boxes: the bag, with a pretty and elegant but simple design which will have your guests wondering what is inside; and the box "After Party Kit", prepared for you to fill with whatever you can think of. It is the best box for funny gifts for your guests! With a pretty ribbon, labels and a little imagination, they become the perfect boxes!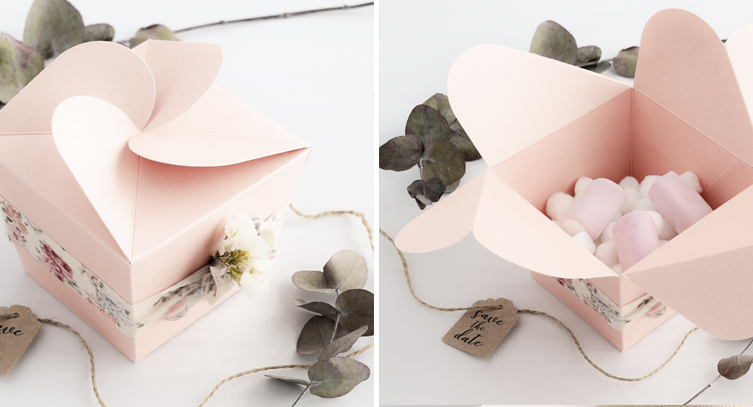 Here are more candidates for your favourite box! This pretty box stands out because of its flower-shaped opening, which adds a delicate touch to your gifts, making them even prettier so everyone will love them. Also, it is very easy to assemble, so you mustn't worry about it no looking as good as in the photo.
The essential boxes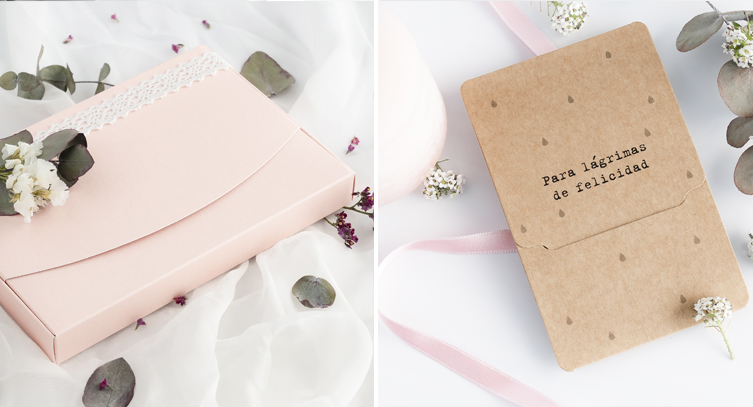 If you'd like to give your guests printed photos of the wonderful day you shared, you should also give them handkerchiefs, so they can dry their tears of happiness. These boxes are exactly what you need and a must for any wedding. Pretty, simple and easy to assemble, they will add a unique touch of closeness to your celebration and showing how much you have thought everything through, making each moment special.
Boxes for emotional moments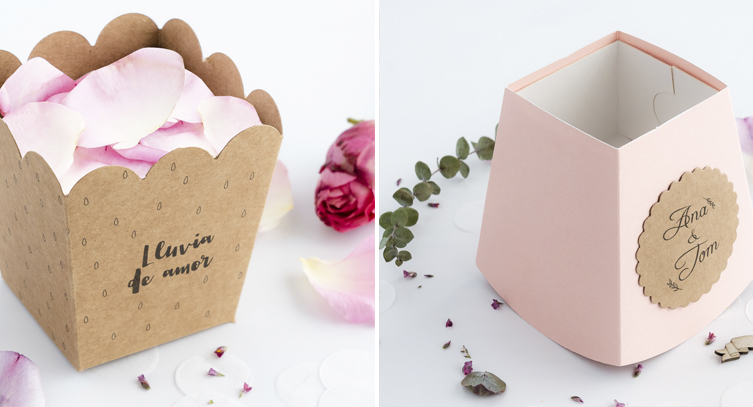 These boxes are great for the rice or petals they will shower you with at the wedding. Your guests will love how practical this pretty design is. It is also fully customisable, so you can make these boxes unique and perfect as an end to the ceremony!
Accessories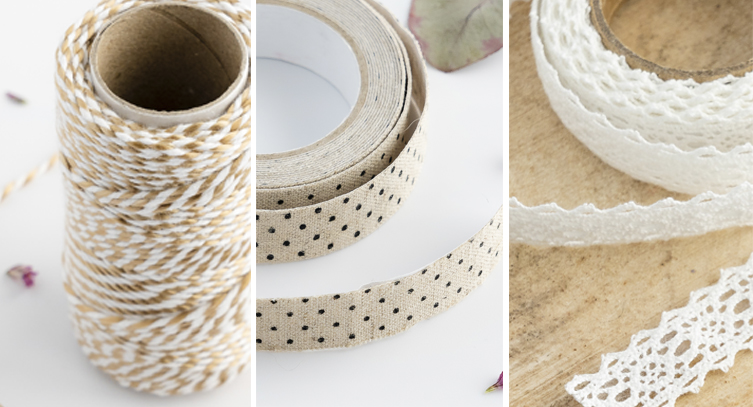 Finish your wrapping with some of our ribbons. You choose the style that best matches your boxes: whether it's an elegant cord, a simple spotted fabric tape or an elaborate lace tape.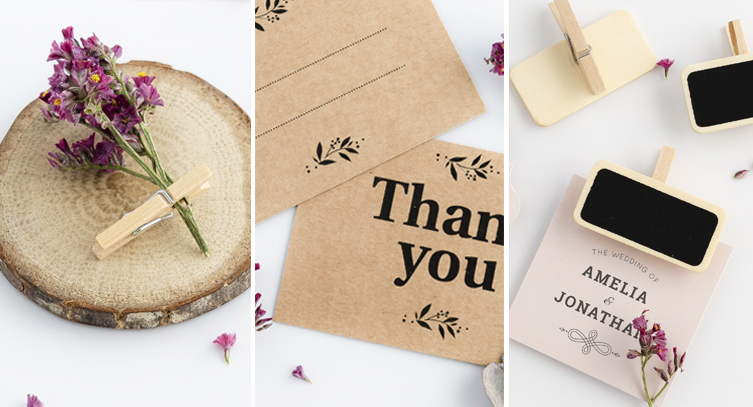 And we must not forget other extras, perfect little details that will make your wedding great such as little chalkboards with chalk that make simple but elegant labels, or little pegs to hold things.
We are sure you have butterflies in your stomach now you've seen our pretty boxes and accessories, now you just need to take a look at the section and find out more about what you can get! Will you say I do to SelfPackaging and our wedding boxes?