At SelfPackaging we love traditions and if there's one celebration we never, ever miss, it's Sant Jordi.
Really? You don't know about this tradition?
Sant Jordi is a Catalan celebration that takes place on the 23rd of April and has a legend about princes, princesses and dragons at its core (nope, boxes are not the mean feature this time). On this day, culture and love fill all the streets in cities and town across Catalonia. Books and roses are at the centre of this celebration and we want to tell you a little more about it and give you some ideas…
Let's start at the beginning. Do you know the legend? Here is a summary
Legend has it that many, many years ago, outside the Catalan town called of Montblanc, lived a dragon in a cave. The townsfolk lived in terror. To satisfy his appetite, realising they weren't a match for the dragon, they decided to deliver one person every day, that would be chosen in a draw. One day, bad luck befell the kingdom and the princess was the one who was to be surrendered to the dragon. But when the princess set off towards the cave, a knight in golden armour showed up with his spear and used it to kill the dragon saving the princess and the town. From the blood the dragon shed, sprouted the most beautiful rose bush anyone had ever seen. Sant Jordi picked the reddest of the roses and gave it to the princess.
This legend is where the rose-giving tradition as a symbol of love came from.
We have an idea to make it a little more original…
Here is an example to show how pretty the roses look in one of our boxes for flowers!

If as well as creative you are also quite handy, these DIY rose options are perfect for you.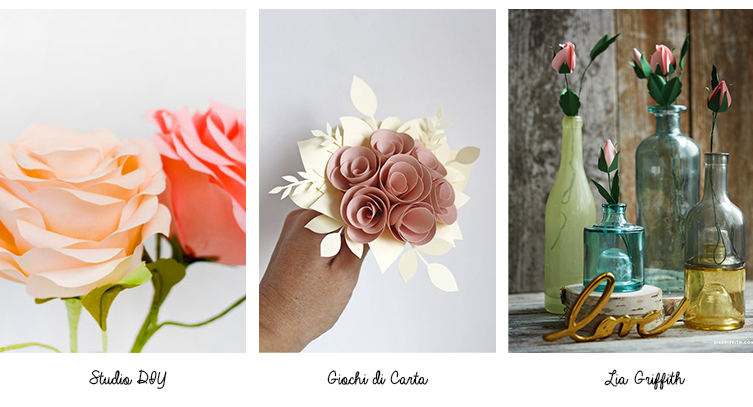 How about the books?
Well, Sant Jordi coincides with the World Book Day. This is why people give each other books. This is why the streets are filled with books, roses, culture and love. It is a wonderful day for a walk to enjoy the unique festive and cultural atmosphere.
Speaking of books… Here is a super list with our favourite books that will no doubt inspire you to decorate your boxes.
Self-packaging – Viola E. Sutanto
I Love Paper – Fideli Sundqvist
Make my Party – Lisa Gachet
Adorn – Kit Lee and Shini Park
Le grand livre du DIY – Emilie Guelpa
L'atelier de papier japonais – Adeline Klam
The Craft Companion – Ramona Barry and Rebecca Jobson
DIY (Do It Yourself) – VV.AA
Fiestas – Marcela Coo Müller
DIY Crafts for Kids – Eva Minguet
Now that you know everything about Sant Jordi… let's celebrate that day!