We've been back at the grindstone for almost two months and we can hardly remember the summer and our holidays. We are focussed on the day-to-day around here and it is important to keep our work space nice and tidy.
One of the keys to making us feel comfortable in the office is keeping our work space and desk tidy. So we need to keep our work tools all sorted. It would be ideal to store each object or tool in boxes, drawers and folders. Each thing would have its own place and be nice and tidy: Binders, books, notebooks, magazines, etc.
As well as keeping things tidy, to create a welcoming work space, it is also important to have a few small personal touches. This means that you don't have to paint walls or change your desk if that isn't possible. By decorating our space with our own style, it will be enough to make it more "ours" and personalised.
For example, the craft that we are showing you today is perfect to give that personal decorative touch to our work space, whilst keeping it tidy and organised.
Today we are going to show you how to transform our carry case with a strap into a really cool magazine rack to keep everything nice and tidy. It's really easy, useful and pretty.
Let's start, listen carefully!
A super post in collaboration with Warm Home Life.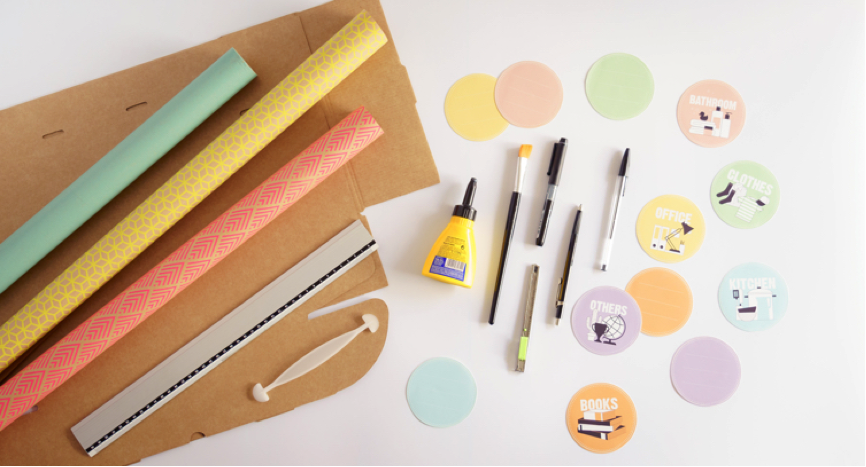 MATERIALS:
– Black marker pens and/or a pencil
– Craft knife and/or scissors
– White glue
– Small brush or flat paintbrush
– Ruler
STEP BY STEP: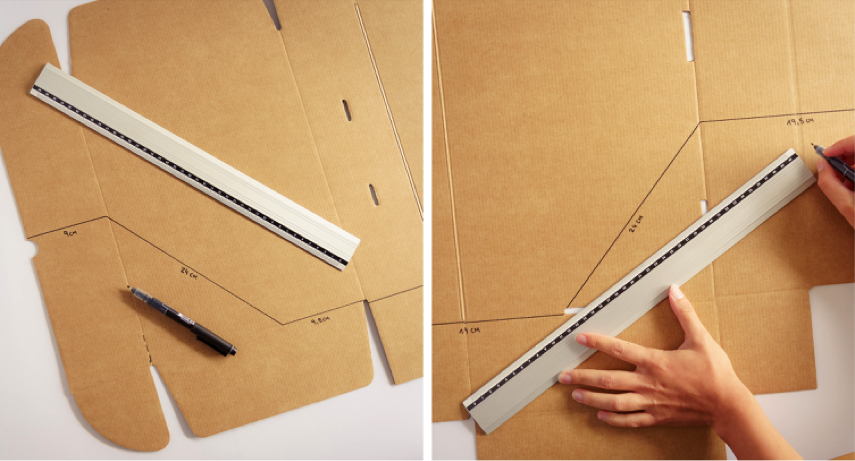 1- Place the box on the table so that the flap that closes the box is on the left-hand side. Just beneath the opening draw a 9-cm horizontal line. Then, on the right side of the inner tab draw 9.5cm. Then, bring together the ends of these two lines by drawing a 24-cm horizontal line.
2- Continue with the measurements on the other side of the box. Following the lower horizontal 9.5-cm line, draw a 19-cm line up to the pierced area. Then, draw another horizontal 19.5-cm line on the tabs at the right end of the box. These tabs are 33-cm high. To put this line in the right place you must measure 17.5cm from the inside base.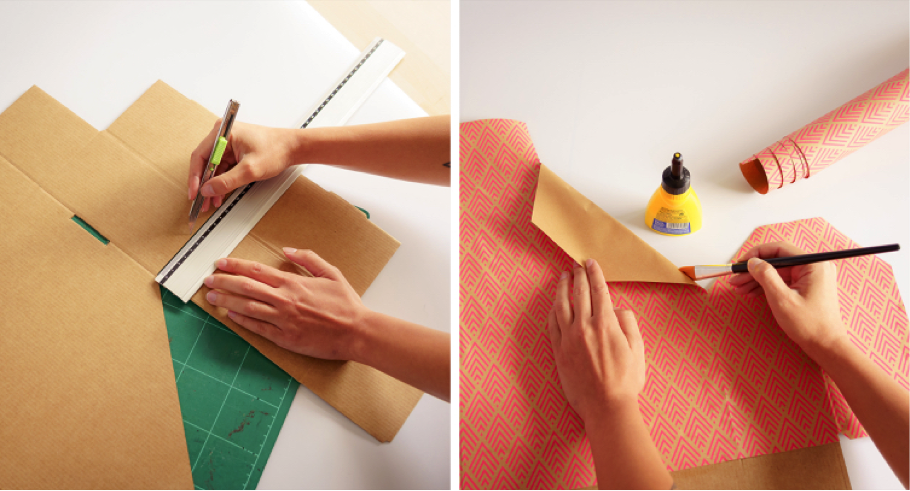 3- With the help of a craft knife and a ruler, cut by following the line drawn in the previous steps.
4- Cut out a piece of gift wrap and line the box with it. Use a brush or flat paintbrush and spread the white glue across all the surface. Leave some paper tabs at the ends of the box.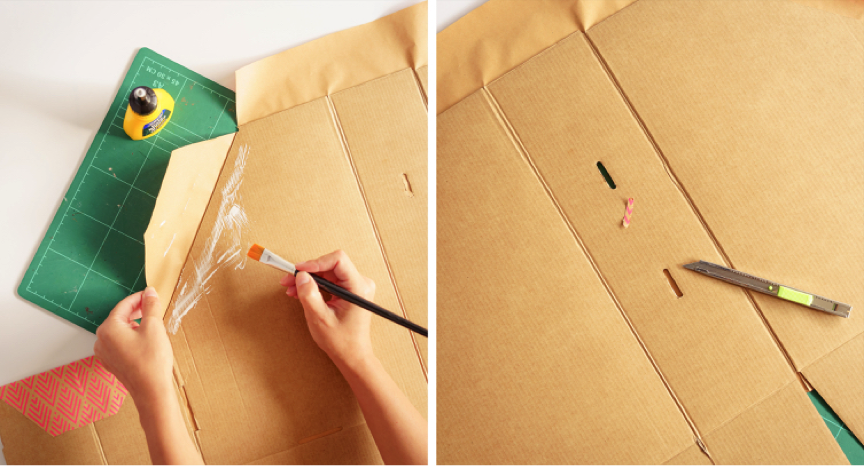 5- Finish off these paper tabs by pasting them to the inside of the box.
6- Now cut two pieces of paper which cover the openings where the box strap will go through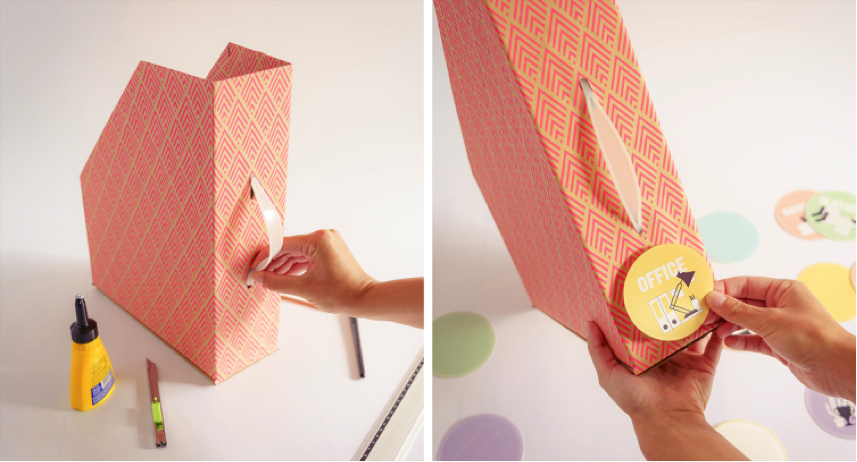 7- Put up the box and feed the strap through the two openings.
8- Then, choose a label to show what you will keep inside. Our round labels are really cool and look perfect with the gift wrap.
Make as many magazine racks as you need. You can line each one in a different way: with a few strips of gift wrap, or lining it just half-way, the possibilities are endless!