Giving a bottle of wine is one of the star details par excellence, suitable for any type of moment and for almost any celebration. It is something that cannot be missed in a moment of celebration and joy, and it is a gesture that is received with great pleasure. In addition, giving a wine you will always be right thanks to its versatility in flavors and sensations, suitable for any palate. But not everything is the bottle itself, but how you present it. In this article you will discover how to decorate some wine bottles to give as gifts and different options of personalized wine boxes.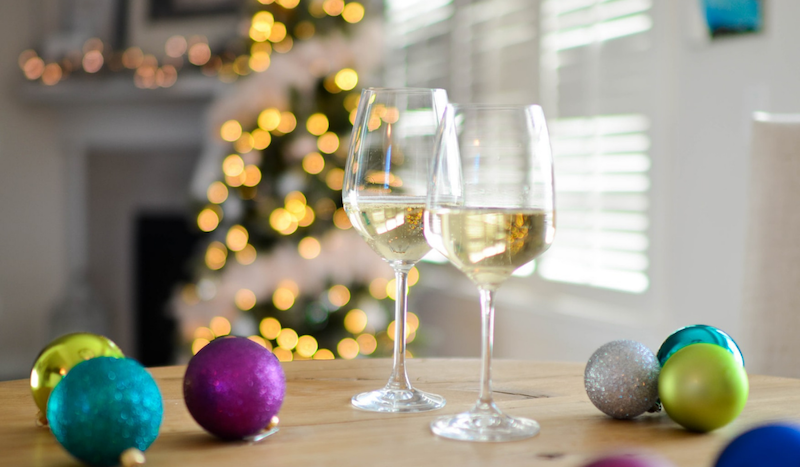 Decorate a bottle of wine to give as a Christmas gift
On these special dates, it is important to create an elegant detail when we go to a lunch or dinner, so knowing how to decorate a bottle of wine to give at Christmas will be of great help. Wine in gift format has the advantage that we can show off twice; one for the quality of the wine and the other for its packaging. In other words, the decoration goes hand in hand with the contents of the bottle, complementing it and making it stand out. Apart from this, giving a wine for Christmas has many advantages: It is a gift that symbolizes the celebration, invites you to share with others and above all, you don't need to be an expert to choose a good bottle.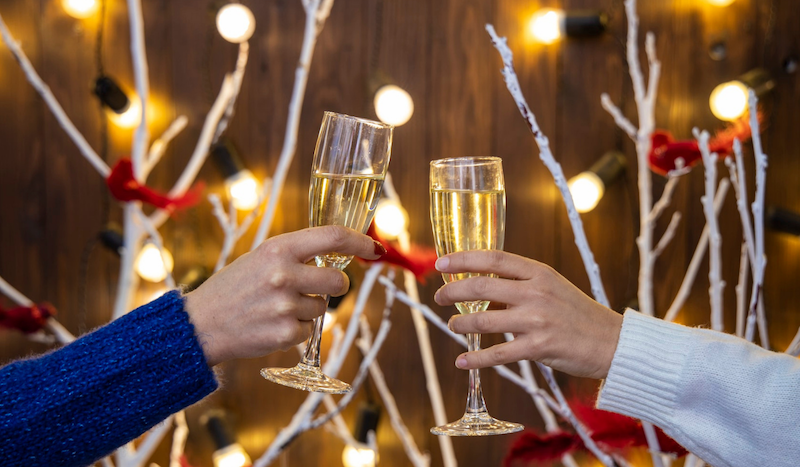 To achieve an even more groundbreaking effect, it is essential to have packaging that stands out from the rest. Depending on the situation, we can choose one type of decoration or another, be it an elegant dinner with the family or a Christmas meal with friends. Each occasion will need a different box or packaging, adapting to both the environment and the circumstances of the moment. Now that you are up to date on why decorating a wine box is important, let's get to work with the following ideas for decorating wine bottles for Christmas!
Cardboard wine boxes
Before you start decorating wine boxes, you need to get a cardboard bottle box. Get one that is sturdy and can support the weight of a bottle, so it won't break or come apart along the way. They range from more elegant to simpler, even wine boxes with sustainable materials, but it is essential that they be suitable for wines, beers, champagnes … This guarantees their endurance and strength compared to other boxes that may be weaker. There are different options to choose the wine box that best suits what you are looking for:
Elegant decorated wine box
Giving a wine in an elegant way is one of the best details you can do on any occasion. With a distinguished box, you can give it a refined touch and leave everyone with their mouths open. There is nothing better for an elegant box than a combination of cardboard with a black lid and gold print: They are the most stylish colors par excellence. In addition, with a box that has this original opening, no one is going to forget your wine, as it provides a very special surprise effect.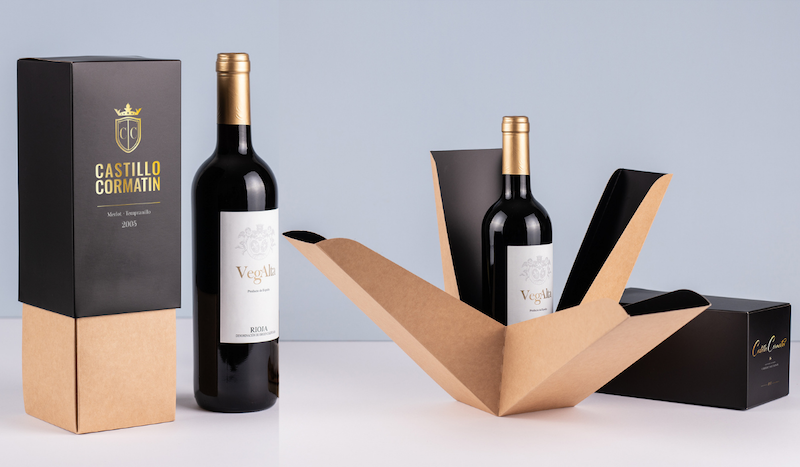 Box for two bottles or more
If you are not sure about buying a white or red wine, young or reserve, Chardonnay or Muscat… We have the solution: Get both! With a box for two bottles you can bring both options and everyone can choose the one they like the most. It is a detail that will be appreciated since you can bring several choices, so you will never leave the host or his guests unsatisfied. A perfect alternative to carrying multiple plastic bags or even arriving with bottles in hand, this box is the definition of versatility in its purest form.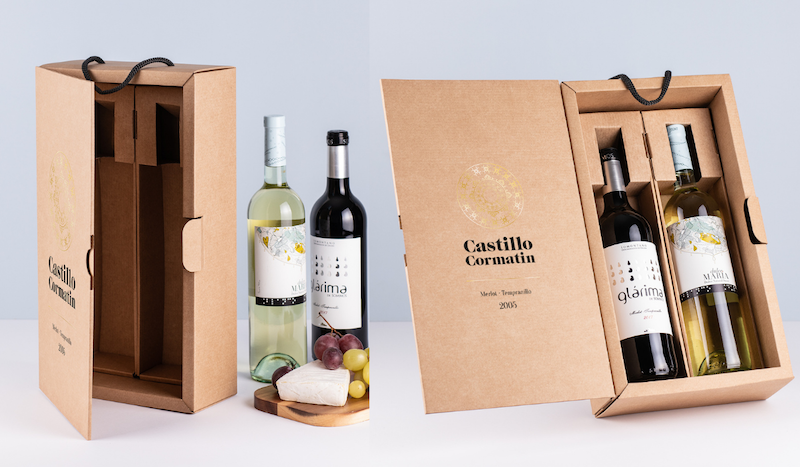 Sustainable wine gift box
Finally we have an idea that cannot be missing in any celebration: A box made with 100% recycled cardboard for bottles. This option is original and elegant at the same time, with an ecological point that gives it a very special touch. Gray cardboard is known for its great resistance, which makes this box perfect for bottles of wine, cava or others. Thanks to its stone color and its black string, it can be used both for elegant dinners and for meals with friends, since you can add a decoration according to the situation of each event. Giving a box of wine in a sustainable way is possible!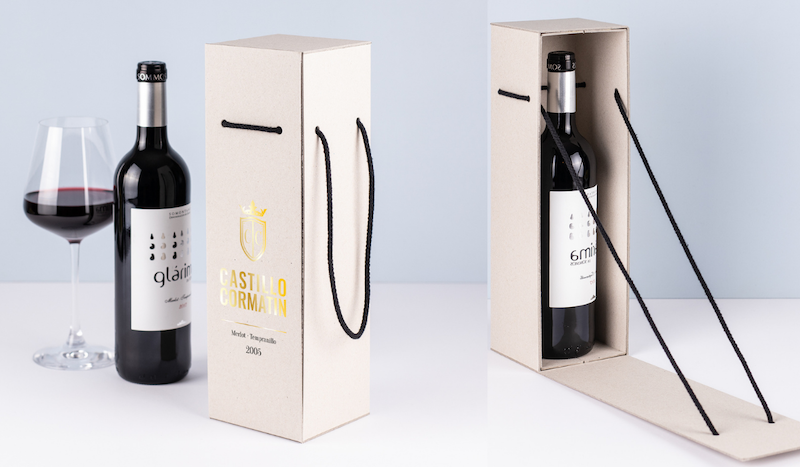 Examples of wine bottles decorated for gifts
Wine box decorated for Christmas
If you are looking for a gift box for Christmas wines, you can also decorate it with motifs or patterns illustrated with mistletoes, tree balls, snow symbols … Of course, always with the typical colors of this time such as red, green or White. With this box specially designed for this occasion, you can appear at any Christmas lunch or dinner with a very festive and joyful touch at the same time. Christmas is a time of year when many bottles of wine are given, either because of the desire to celebrate or because of the elegance of the gift, that is why having one of these boxes on hand can save you from more than one hurry.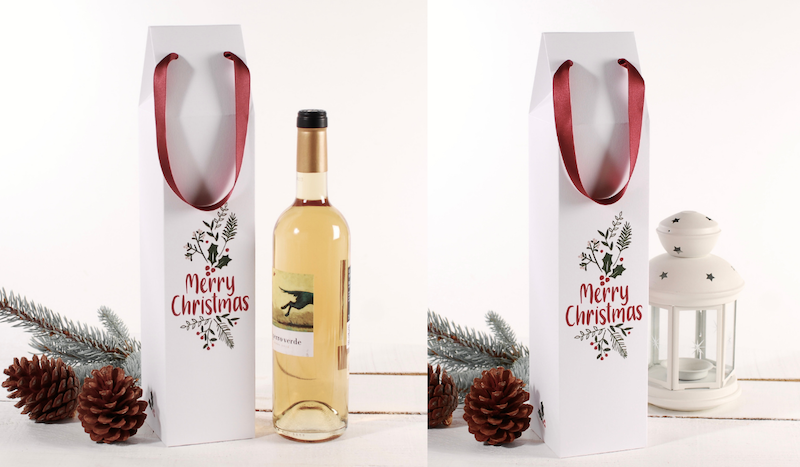 Wine box decorated with flowers
Another option to decorate a wine box could be using flowers or plants. With the help of a hemp rope or a bow, tie a small bouquet with the combination of stems that you like the most and surprise anyone with this original idea. Also add some masking tape with a color that complements the bottle inside to give it a more sophisticated touch, and you have it!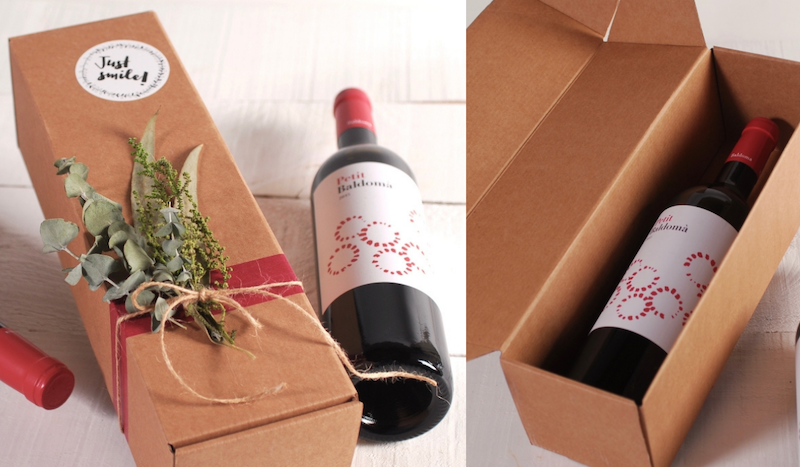 Now that you have seen a wide panel of ideas to decorate wine bottles, you can be the life of the party with the most original detail! Get the most versatile and resistant cardboard bottle boxes on the market and you will be able to decorate them however you like: With patterns, prints, logos, stickers, labels, ribbons … Everything you want to imagine for your wine box and more.