Cookies in SelfPackaging
WHAT ARE COOKIES IN YOUR WEB BROWSER?
A cookie is a small information file that is sent to your computer, mobile or other device when you visit a website and it will recognize your device on future visits. These types of files do a number of different jobs such as remembering your preferences and chosen items, assisting you to improve your site experience as well as trying to ensure that the adverts or offers you see online are more relevant to you.
WHAT ARE COOKIES USED FOR?
Basically, they are used for knowing you better and offer you what suits your needs
Such information will not identify you personally and they are not a risk for your computer or mobile device. They are tools used by the sites you visit to personalize and improve your browsing.
You decide if you want to enable cookies or not. If you choose to disable them, you have to block them in your web browser. Before blocking them, it is important to know some basic information.
For instance, we use cookies for:
- Knowing your interests in your next visit to our website.
- When entering into your personal profile, so you don't have to write your username each time.
And also, they offer you personalized content: discounts, promotions…
WHAT KIND OF COOKIES WE USE?
Our website uses three types of cookies:
Technical cookies: They are necessary to browse through the website properly and enter into all the sections with no problems.
Performance cookies: This type collects anonymous information on how people use the site to improve how the site operates. For example we use it to calculate how many visits we have on our site in order to improve the service we can offer you, know what works on our website…
The data stored by these cookies never shows personal details from which your individual identity can be established. This information is anonymous, we just need it for statistical purposes.
Advertising cookies: These cookies collect information about your browsing habits in order to make advertising relevant to you and your interests.
Session cookies: These are temporary cookie files, which are erased when you close your browser.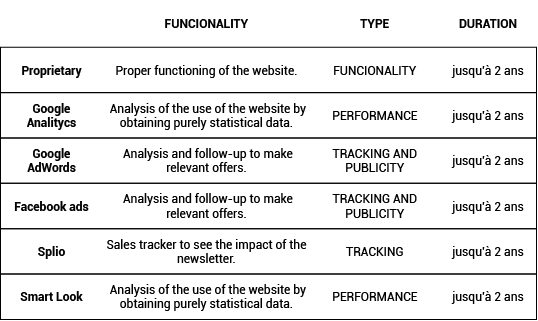 HOW TO ENABLE COOKIES IN YOUR INTERNET WEB BROWSER
Web browsers usually allow cookies by default. When visiting our website, you are accepting the installation of cookies on your device, but you are the one who decides if you want to browse with cookies or not. You can choose any time which cookies you would like to use on this website setting them on your web browser.

Warning: If you block the cookies there will be a lot of information you can not see and some specific web features may not work.
Here are the steps to enable or disable your cookies, depending on the web browser you use. Click on the name of the browser you use.